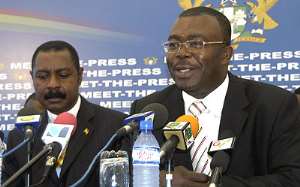 Hon Stephen Asamoah Boateng addressing the press, on his right is Nana Osei-Bonsu, Chief Executive Officer of VCTF
The Minister for Information and National Orientation, Hon Stephen Asamoah Boateng, has urged all Ghanaian Entrepreneurs especially the youth to take advantage of the Venture Capital Trust Fund (VCTF) to grow their businesses.
Speaking at the meet-the-press series yesterday in Accra, he challenged the youth to take a bold step to create their own businesses, and risk in accessing the VCTF ot grow their businesses rather than waiting and idling in search of white collar jobs.
The Fund which is mandated to provide finance to Small and Medium Scale Enterprises (SMEs) and develop and promote the Venture Capital Industry in Ghana was passed by parliament in 2004 (VCTF) Act 680).
The Chief Executive Officer of VCTF, Nana Osei-Bonsu, noted that the Trust Fund which started fully in 2006 has within its relatively short history of two half years chalked various degrees of successes as it propagates its agenda to develop and promote and the venture capital industry in Ghana.
Nana Osei-Bonsu stated that, the Board of Trustees decided to kill two birds with one stone by engaging in Public Private Partnership (PPP) to achieve the funds mandates by leveraging the government's endowment of GH¢22.4 million to partner with private sector to bring on board additional funds of approximately GH¢34.5 million from private sector investors.
He noted that, as a result of this PPP, the venture capital industry has grown overnight to a total fund of GH¢56.9million to be sourced out by qualified SMEs, adding that the PPP is the first of its kind where government institution has leveraged its resources with the private sector to create more funds that it was endowed with.
 Please click here to view photos