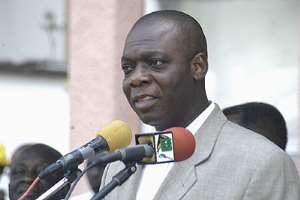 Hon Frank Agyekum, Deputy Minister for Information and National Orientation
The Deputy Minister for Information and National Orientation Hon Frank Agyekum has stated in Washington that Ghana's systematic development in recent times is a proof that underscores what good governance can achieve through excellent management of foreign aid.
He was addressing the just ended annual meeting of Information Network of DAC Development Communicators held in the U.S.A from 20th to 21st October this year.
The Deputy Minister observed that the essence of aid is to help bring progress, advancement and maturity to the world's less privilege communities, so they can take control of their growth paradigms and wean them off the aid bracket.
Hon Frank Agyekum disclosed Ghana's development assistance amounted to 42% of her budgetary requirements in 2001. 'However, today it stands at 30% and is likely to go downwards,' he noted.
Ghana last year got off the Poverty Reduction and Growth Facility of the International Monetary Fund (IMF).
'What this means is that, with proper direction and correct use of aid resources, countries could graduate from aid dependence and help achieve the world we all want to achieve', he said.
He observed that, if the Ghanaian achievement is generally replicated in other developing economies, the question of aid will become more central in the lives of people.
This, he advised, will compel both donors and recipients to be more conscious of their responsibilities, deliver on their promises and ensure the effective implemenntation of aid.
Earlier, delivering the key note address on the Importance of Communication for Development, Administrator and Director of Foreign Assistance of USAID, Ms Henrietta Fore emphasised the need to use developmental goals to monitor aid.
Using the Millennium Challenge Account as a measure, she observed that donor responsibility is equal to the recipient country's responsibility.
She hoped that clearing 'navigation' difficulties like corruption, crimes, and shocks of Global flaws, 'Aid Effectiveness' will be achieved in all recipient countries.
The three-day meeting, themed 'Reaching out to a changing world- New Actors- New Strategy and New Horizon', was a follow-up of a High Level Forum on Aid Effectiveness held in Accra, Ghana in September this year.
Organised under the auspices of OECD/DAC and the USAID proceedings were held in the second largest building complex of the United States known as the Ronald Reagan Building.
It brought together policy makers, donor countries and development communicators from Australia, Austria, Belgium, Denmark, Finland, France, Estonia, Hungary, Ireland, Israel, Japan, Spain, Thailand, Slovenia, New Zealand, Netherlands, United Kingdom, United States the E.C, World Bank and OECD.