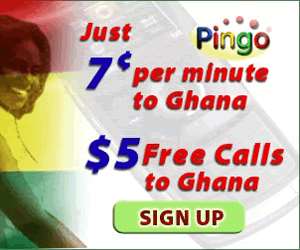 BURLINGTON, Mass. – October 29, 2008 – It can be hard to stay in contact with friends, colleagues and family members who are living abroad. When you are separated from your loved ones in Ghana, you will want to look into the various options that may be available to make cheap international calls to Ghana on a regular basis. It can be difficult to find calling cards or long distance services to use on your phone in order to stay in contact. But through the power of the internet, many options exist that you can take advantage of when you are calling Ghana.
Many people leave Ghana every year to spend time abroad. They may plan to be gone only for a short trip. In some cases, they are leaving to attain their education and will return to Ghana at some point in time later on. Others migrate permanently to another location, whether to accept a job or to seek other opportunities in life. Many people from Ghana chose to move to mainland Europe, the United States, or even some destinations in Asia. Still others stay closer to home and migrate to other African nations, such as South Africa or the Ivory Coast, in order to pursue a degree or a job. No matter where migration takes a person from Ghana, they will still be interested in finding the most inexpensive way to stay connected with their family back home.
Internet soft phones can be a great way to stay in contact, no matter where you are in the world. Because this type of communication software does not necessarily recognize that you are dialing internationally, it will simply connect your call over the internet. Many types of internet soft phones are simply software packages that you download to you computer and use whenever you want to connect to another person's computer or dial directly to their phone line. This type of communication relies on the audio card, speakers and microphone that you have in your computer to help you make phone calls. The cost for using internet soft phones is far less expensive than using landline or cellular devices to stay in contact when calling from abroad.
Another type of service that utilizes the internet in order to maintain contact internationally is called VOiP. This stands for voice over IP and it is a protocol that allows you to use your phone through your internet service provider instead of over traditional phone lines. When you set up a VOiP, a direct connection is enabled through the internet, and instead of paying costly per minute charges on a phone line, costs are kept to a minimum with the transmission of calls over the internet. Pingo has released a new program that allows businesses to sign up for VOiP services for their offices. This can be an enormous money saver and can also allow people around the world to stay in contact with Ghana with a lot less hassle than dealing with conventional phone lines.
About iBasis
Founded in 1996, iBasis (NASDAQ: IBAS) is a leading wholesale carrier of international long distance telephone calls and a provider of retail prepaid calling services and enhanced services for mobile operators. iBasis customers include KPN, KPN Mobile, E-Plus, BASE, TDC and many other large telecommunications carriers such as Verizon, Vodafone, China Mobile, China Unicom, IDT, Qwest, Skype, Telecom Italia, Telefonica, and Yahoo. In October 2007, iBasis acquired KPN Global Carrier Services to create one of the three largest carriers of international voice traffic in the world (1), and KPN became a majority stockholder of iBasis. On a pro forma basis, the combined company carried approximately 24 billion minutes of international voice traffic in 2007. The Company can be reached at its worldwide headquarters in Burlington, Mass., USA at +1 781-505-7500 or on the Internet at www.ibasis.com.