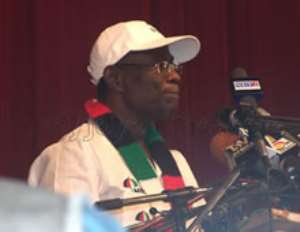 The Presidential Candidate of the NDC, Professor John Evans Atta Mills, has asked the chiefs of his home region, Central Region, to remember him in their prayers.
The NDC Leader made the request when he met with the chiefs on Monday, October 27, 2008, in Cape Coast.
This was contained in a statement issued by the office of Prof. Mills and signed by the Communications Director of his campaign, Mr. Koku Anyidoho.
"Professor Mills rolled out his Better Ghana agenda of, investing in people, Job Creation, Infrastructure Expansion and how he will lead a team that will manage the affairs of the state in an, open, honest, truthful, humble and transparent manner."
"Unlike others who come here and made wild promises and beat their chests as if they created themselves and the world, I am saying that if it is the will of God and I become president, I will do what is right and proper in the sight of God so that He will pour His blessing on us" the statement quoted the NDC Leader.
Prof. Mills reminded the chiefs of what he did for the region as Vice President and presented a copy of his party's manifesto to the Regional House of Chiefs.
"If it is God's will and I become President, I will be President for all and not President for a few. Of course, I am from the Central Region so there is no way I will turn my back on my home region" said Professor Mills.
Nana Kwamena Ansah Paramount Chief of Eguafo Traditional Area and President of the Central Regional House of Chiefs chaired the meeting.
Among the chiefs present, were, Nana Kwame Nkyi IV former President C/R House of Chiefs and Paramount chief Assin Appeimanim Traditional Area, Osabarima Kwesi Atta Paramount Chief of Oguaa Traditional Area and Nana Kodjo Kondua, Paramount Chief of Edina Traditional Area, Nana Bodam, Paramount Chief of Enyanmaim.
"Osabarima Kwesi Atta, decried the removal by the NPP government of the NDC's policy of reserving 30% of secondary school admission slots to indigenes and asked of Professor Mills to reintroduce that policy should Ghanaians give him the mandate to govern the country" the statement claimed.
It reported Osabarima Kwesi Atta, as saying "it is unacceptable for Cape Coast to boast of good secondary schools but for the people of Cape Coast not to be benefiting directly from quality education."
Credit: Prof. Mills' campaign