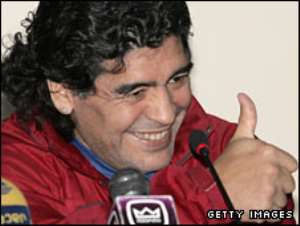 Argentina legend Diego Maradona could be set for a sensational return to football after claiming he has been offered the role of national coach.
The 1986 World Cup-winning skipper held talks with the Argentina Football Association (AFA) on Tuesday and is set to continue discussions on Wednesday.
The 47-year-old said: "The offer attracted me a lot. As soon as it is confirmed I will start working."
Maradona has had only two brief spells as a coach in Argentina.
If Maradona does take over he will succeed Alfio Basile, who resigned earlier this month after a World Cup qualifying defeat to Chile.
He was quoted as saying: "The idea is to start working immediately after the official announcement with the players who are in Argentina and then take the first plane to talk to the ones in Europe."
BBC Sport's South American football reporter Tim Vickery said: "This is all coming from Maradona.
"There is no official word from the AFA yet so it's still early days. But the tide seems to be blowing in his direction.
"He's a religious icon over in Argentina and is a very dangerous force to leave out."
Widely regarded as one of the best players in the history of the sport, Maradona is an iconic figure in Argentina after a remarkable 21-year playing career in which he hit new heights of brilliance on the field and plumbed depths of despair away from the action.
After making his professional debut as a 16-year-old for Argentinos Juniors, he went on to play for his beloved Boca Juniors before spells in Europe with Barcelona, Napoli and Sevilla.
Maradona's unique skills with the ball at his feet made him a superstar, and he is idolised by Napoli fans for almost single-handedly winning the Serie A title and the Uefa Cup for the unfashionable club.
But his most memorable achievements came with the national side - the 1986 World Cup tournament becoming synonymous with his name.
Maradona captained Argentina to a famous triumph, playing every minute of the tournament and scoring five goals, including two against England in the quarter-final which will live forever in football folklore.
His first goal of the 2-1 win came courtesy of an outrageous handball which he later described as "the hand of God"; but the second is said by many to be the best goal ever scored as he danced past five England players before poking the ball past Peter Shilton.
But Maradona's life away from football has been anything but straightforward, with a long-running addiction to cocaine undermining his genius.
The second failed drugs of his career saw him sent home from the 1994 World Cup in disgrace, and since retiring at the age of 37, Maradona has suffered numerous health problems.
Battles with his drug addiction, alcoholism and obesity saw him suffer a heart attack in 2004 which put him in intensive care, while a later stomach-stapling operation saw him lose 30kg (66 lbs) of excess weight.
Maradona is a virtual novice in coaching terms, with just short spells with Argentine clubs Deportivo Mandiyu and Racing Club in the 1990s on his CV.
But with his health largely restored, Maradona now looks set to take the reins as coach of the national team.
Carlos Bilardo, who coached the winning side in 1986, was involved in the talks with AFA president Julio Grondona and is likely to be part of Maradona's coaching set-up.
Pedro Troglio, who coaches Paraguayan club Cerro Porteno, has also been linked with a role.
Noray Nakis, the president of the AFA selection commission, has already stated his wish, saying: "I'd like Maradona to be the next coach."
Maradona was thought to be on a shortlist with former Boca Juniors coach Carlos Bianchi, San Lorenzo coach Miguel Angel Russo and Sergio Batista, who took the Under-23 squad to Olympic gold in Beijing in August.