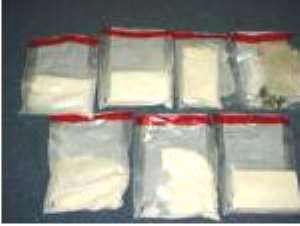 Ghana's election campaign could be tarnished by money from West African drug trafficking, an official has said.
Kwesi Aning, head of research at the Kofi Annan International Peacekeeping Training Centre, said the "very fabric" of Ghanaian society was under threat.
His comments came as the UN warned in a report that West Africa risks becoming an epicentre for drug trafficking from South America to Europe.
Officials from West Africa are meeting in Cape Verde to discuss the problem.
Every year, at least 50 tonnes of cocaine from Andean countries are transported through West Africa towards Europe, where they are worth $2bn (£1.3bn), according to the UN.
The problem is getting worse, the UN says, with seizures of drugs representing the "tip of the iceberg".
Sniffer dogs
The UN says that along with Guinea-Bissau, Ghana is a major hub through which cocaine enters the region.
Mr Aning said he was alarmed at the amount of money being splashed around in Ghana ahead of presidential elections on 7 December.
"Some of these guys were my mates in school and they were not too successful, and they've been in politics for less than 10 years," he told the BBC.
"You don't make that kind of money in 10 years."
He said he was talking about people "running for parliament, who are ministers, wanting to run for president".
"It's not only about politics or politicians, it's about the police service, it's about customs, it's about immigration, it's about the judiciary, it's about our traditional institutions," he said.
"What I'm saying is that the very fabric of Ghanaian society is under threat."
Ghana's politicians say they are determined to fight drug trafficking, but many question whether the political will exists in a society where corruption is a major problem, BBC West Africa correspondent Will Ross reports.
Mr Aning said political rhetoric needed to be followed by action, suggesting there should be more sniffer dogs and better exchanges of intelligence.
Ghana's interior ministry has so far declined to grant an interview on drug trafficking.
The head of the UN office on drugs and crime, Antonio Maria Costa, said the conference in Cape Verde was important in calling attention to "the work that's needed to protect these countries so as to protect Europe".
He said economic weakness of West African states allows traffickers to prosper, and that corruption was also a problem.
"Some of the political leaders, or members of families of political leaders, some of the high officials, including law enforcement are involved, or in any event turn a benign eye."
Another UN official, Antonio Mazzitelli, said that despite these weaknesses, some states had begun to respond.
Singling out Guinea-Bissau, he said that "drug traffickers are starting to consider a lot of other options on the West African coast".