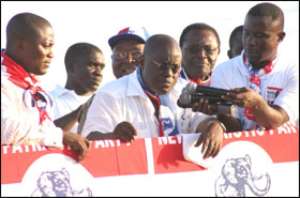 The National Democratic Congress (NDC) has been challenged to provide the basis for seeking the intervention of the international community to avoid a war situation in Ghana during the December 7 polls.
Nana Konadu Agyeman Rawlings, wife of the party's founder, after wailing to the international community that unless they intervene Ghana would burn, has been described as a 'mockery' who has clandestine motives.
The party's flag-bearer, Prof Atta Mills has also been dared to substantiate his claims that some top government officials had told him that the government would rig the upcoming elections.
National Organizer of the New Patriotic Party (NPP), Lord Commey, in an interview with DAILY GUIDE, indicted Prof Mills of condoning a criminal act by refusing to provide information he claimed to have that some people are plotting to rig the upcoming polls.
"Atta Mills is condoning criminality if he fails to report to the Police the facts he claims to have that some people are about to rig an election.
If Prof. Mills is a true leader who wants to rule this country, he should be bold enough to respect the law. Rigging an election is a criminal act and anybody who has an idea or a clue of someone trying to commit a crime must report to the Police or provide the facts to the security agents.
"The owner of their party has made similar wild statements and when he was challenged to provide the evidence he said we should bring a chemical interrogator to test if he was speaking the truth. Should we take some of these statements very seriously?
"For goodness sake, Atta Mills wants to lead this country and without giving any fact but based on whispered rumors from mysterious persons, comes to say these things on air and does not report to the Police. He cannot be serious," Lord Commey rationalized.
The NPP National Organizer continued that Mrs. Rawlings should have known that the foreign embassies she forwarded her letters to all have an eye on Ghana and can judge if what she was saying are facts or 'hot air'.
"The foreign Embassies themselves would be laughing at her for some of these things. She is a mockery and cannot be serious with this. I just cannot see the reasons for the NDC to call for foreign intervention at this stage, create an atmosphere of fear and paint a picture as if this country is about to be doomed just because Nana Konadu Agyeman Rawlings sits in the comfort of her room and say so," he quipped.
Lord Commey noted that even when Ghana was under a military dictatorship headed by ex-President Rawlings, the country did not burn.
"These same people did a coup and many innocent people were killed; there was the firing squad situation, the curfew, women were striped naked and flogged publicly, yet we survived it when our liberties and our rights were trampled upon. Ghana would not burn; the campaign is on in an atmosphere of freedom. People are speaking their minds and the media is free.
Just about a few days ago the Electoral Commission held a meeting with all the political parties and we have all come to a common understanding of the rules of the game, so I do not see the NDC's point."
The persistent beating of war-drums by the NDC at the threshold of Ghana's general elections has been perceived by many as a propagandist gimmick by the party to raise unnecessary doubts about the credibility of the polls.
Political pundits have predicted that the NDC would reject the election results and call for a power-sharing deal as happened in Kenya and Zimbabwe.
By Halifax Ansah-Addo