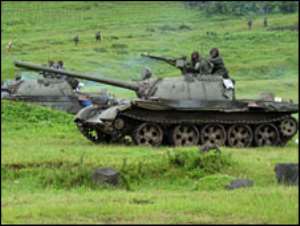 Government troops and UN forces have been involved in fierce battles against Tutsi rebels in eastern Democratic Republic of Congo.
Reports from the region suggest the strategic village of Kibumba, north of the regional capital Goma, is the latest to have fallen to the rebels.
Renegade General Laurent Nkunda's fighters say their next target is Goma, where thousands of civilians have fled.
The head of the UN mission in Congo says he desperately needs more troops.
The UN Security Council late on Tuesday called for an immediate ceasfire and issued a statement in which it "strongly condemned the offensive operations" against its peacekeepers.
UN forces have been using attack helicopters and tanks to try to stop the rebel advance, but they say the rebels work in small groups, making them difficult to locate and repulse.
Alan Doss, the head of the UN mission in DR Congo (Monuc), told the BBC his forces were stretched to the limit and needed urgent reinforcements.
He said his troops would do their utmost to stop major towns in the region from falling to the Tutsi rebels under Gen Nkunda.
"We are going to remain there, and we are going to act against any effort to take over a city or major population centre by force," he said from Kinshasa, the Congolese capital.
Monuc has 17,000 troops in DR Congo - the largest peacekeeping force in the world - but has come under criticism from residents in the east of the country for being unable to protect them.
The head of UN peacekeeping, Alain Le Roy, briefed the Security Council, and said the appeal for more troops had been "heard clearly by all member states".
Refugee crisis
The towns of Rutshuru and Rubare have also been threatened by the rebel forces.
Rutshuru houses tens of thousands of displaced people and dozens of aid workers are usually based there.
Some of them told Associated Press news agency that they could hear artillery fire near the town but that crowds of anxious civilians and Congolese soldiers were blocking UN efforts to evacuate them.
A UN worker said thousands of people were fleeing Rutshuru heading toward the Ugandan border to the north.