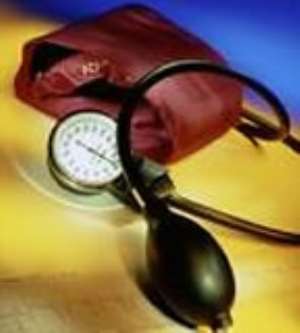 Dr Daniel Kertsz, Country Representative of the World Health Organisation(WHO) has commended the government for finding practical solutions to the reduction of maternal mortality in the country.
He also commended the Ghana Health Service (GHS) for its surveillance on polio and expressed the hope that such efforts would lead to a drastic reduction of polio in the country.
Dr Kertsz who is on a two-day working visit to the Northern Region, made these commendations when he paid a courtesy call on the Regional Minister, Alhaji Mustapha Ali Idris in Tamale on Monday.
The WHO Representative would visit the Tamale Teaching Hospital and the medical stores, after which he would inspect health facilities at Bunkprugu/Yunyoo in West Mamprusi District, Nalerigu in East Mamprusi District and Wuntugu and Tolon in Tolon/Kumbungu Districts to get first hand information on the problems facing the health institutions.
Mr Kertsz said the WHO was seeking to coordinate activities within the local government system to assist Ghana to achieve the Millennium Development Goals (MDGs) in the health sector.
Alhaji Idris noted that the health sector in the region was beset with challenges particularly, shortage of doctors and other medical personnel.
He said due to the vast expanse of the region and the bad roads, health care in the rural areas was difficult to access.
He announced that some doctors would be posted to the region from the 37 Military Hospital in Accra to augment the number in the area.
Alhaji Idris appealed to the WHO to initiate training courses for staff of the hospitals in the region to upgrade their skills and suggested that some incentive packages could be worked out for those who would accept postings to the remote areas.
The Regional Minister said the introduction of the National Health Insurance Scheme (NHIS) had been a great relief to the rural people in particular since it had brought health care delivery closer to them.