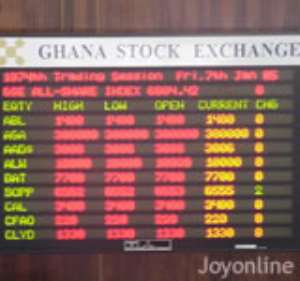 The GSE All-Share Index, the main measure of the performance of the Ghana Stock Exchange on Tuesday fell under pressure from CAL Bank.
The change year to date fell by 5.26 points at 10,815.10 points from Monday's close of 10,820.36 points.
There was only one price change, a GH¢0.02 fall by CAL Bank at GH¢0.67.
Market capitalisation was poorer at GH¢18,074.33 from GH¢18,077.63 on Monday.
Traded volumes were up at 19,100 from a mere 900 on Monday.