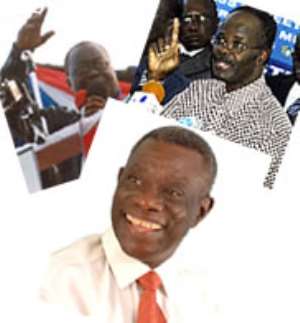 Four candidates are bracing themselves up for the first in two presidential debates on Wednesday 28th October, 2008
Nana Akufo-Addo, Dr. Paa Kwesi Nduom, Prof John Evans Atta Mills and Dr. Edward Mahama, presidential candidates of New Patriotic Party, Convention People's Party, National Democratic Congress, and People's National Convention respectively, have all given clear indications of their readiness to be part of Wednesday's debate.
In an interview with Joy Fm, Dr. Nduom said the debate is no different from the town hall meetings he has been having on his numerous campaign tours around the country.
"This time I will be appealing to a national audience, and Ghanaian will judge us by the content what we say and how he we say it" he added.
Prof Atta Mills, according to his Head of Communication, Koku Anyidoho, needs no rehearsals at all for tomorrow's crucial debate.
"Prof Mills has been down this road many times, it's nothing hectic, so for him it is going to be the statusquo." He added
Three-is-to-one is how the NPP presidential candidate Nana Akufo-Addo perceives tomorrows debate.
According to his Communications Director Dr. Arthur Kennedy, the NPP candidate has vigorously gone through the details of the manifesto and his relaxing ahead of tomorrow's debate.
Meanwhile the PNC candidate Edward Mahama is ready to answer any question dear to the hearts of the people.
The debate is being organised by the Institute of Economic Affairs (IEA)in conjunction with Multi-Media Company Limited.
Ahead of the crucial debate, the organisers have given snippets of information on how the format would look like.
Cyril Acolatse and Prof. Kwame Karikari two seasoned journalists are to take the candidates through four grueling rounds of tough questions.
According to Paa Kow Acquaye official of the IEA the candidates would be given two minutes each to answer the same question in the first round, with a minute each to answer a follow up question.
An opportunity would also be given for the candidates to rebut arguments advanced by opponents.
Questions will be based on the economy, and general security issues.
The second round of the debate would be held in Tamale on November 12.
Story by Nathan Gadugah