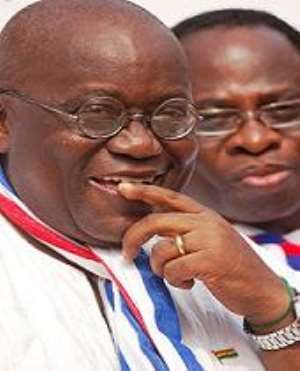 The NPP's regional rally held at Koforidua on the 24th of October and dubbed HOMECOMING RALLY is nothing but a mere bogus claim. We cannot denied the fact that Akufo-Addo hails from Kibi and can rightly claim those bragging rights, the fact of the matter is Akufo-Addo and the NPP are hemorrhaging badly in the Eastern Region and particularly in his own constituency-Abuakwa South.
Historically, every locality, has taken extreme pride whenever one of its sons runs for the highest office of our land. Rather ironically, this is not the case with Akufo-Addo. There has never been a rejection of such high magnitude of an aspiring Presidential candidate by his home base. A tour through the Abuakwa South constituency readily lends validity to the ejective stance taken by the people of Abuakwa South. The ripple effect of Akufo Addo's rejection in his constituency is being experienced across the region and the whole country in general.
Akufo Addo's three term as a parliamentary member of the constituency cannot be attributed by any measure to perceived support of the people of Abuakwa South. He has always in collaboration with some royalties within the constituency used dishonorable means in the form of death threats, bribery, vote buying and blatant fraud to rig elections within the constituency. Kwame Danso a.k.a Fumanju an NPP polling station agent at Kibi recounted in tears how the option to either mount an NPP platform and pledge his support or face a jail term for allegedly falsifying his CV was shoved down his throat. This and countless number of crude tactics has become a symbolic trend for Akufo Addo and the NPP; a clear sign of a campaign in panic mode.
Some politicians either out of sheer arrogance or blatant impunity relegates the sense of shame to the woods other than that, one could not conceive how Akufo-Addo could shamelessly ask the people of Abuakwa South to support his bid for the highest office. Akufo-Addo has plunged his constituency into abject poverty. Under his watch as an MP, income generation in towns like Asiakwa, Sagyimase, Adukrom, Asikam, Pano, Kibi, Apapam, Akwadum, Potroase, Odumase, Amanfrom and Apedwa has plummeted by over 70% as a result of road diversion from these towns. The youth register he compiled in 2000 with the promise to provide jobs when he is voted back to parliament was a complete deceit.
One alarming situation is that only 5% of JSS graduates within the constituency get access to the only Senior Secondary School (SSS) in the constituency-Abuakwa State College (Abusco). Grade levels in Junior Secondary Schools within the constituency are so low that 95% do not get enrollment to Abusco or any other SSS. Amidst all these, Akufo has repeatedly failed to show leadership or any sense of concern for such alarming and retrogressive educational trend within the constituency. I urge anybody to take a trip to Abesim a small town within Abuakwa South about a mile west of Kukurantumi and you will find primary school children sitting on bare clay floor under a palm branched roofing. If this is the definition of "moving forward" then Abuakwa South Constituency does not want to part of a forward movement that evidently veers to the wrong direction.
The Kibi district hospital is witnessing deplorable conditions in material, personnel and monetary resources. The countless number of pleas asking Akufo Addo to grant audience to the hospital's management team to deliberate on how best the problems can be resolved has yielded no positive response. We the people of Abuakwa South Constituency will not allow our intelligence to be insulted by a privileged and insensitive few. On December 7th our grievances will be formatted into a statement .We will use the ballot box to trumpet our statement. The statement will be made loud, clear and convincing. I will advice the NPP to desist from its previous rigging tactics because unlike past elections, it is not going to work this time around, especially in Abuakwa South.
Source:
Sammy Osei Tashman
NDC-PC
Abuakwa South Constituency-Kyebi.