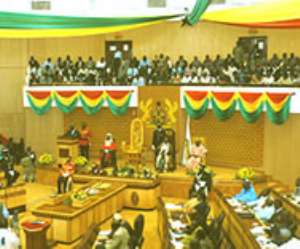 Twenty-one students are reported to have died on the campus of the University of Education, Winneba, within seven months between August 2006 and March 2007.
For this reason the Minister of Education, Science and Sports has been summoned to appear before Parliament in the course of the week to answer a question in relation to the cause of their deaths.
The question, which stands in the name of George Kofi Arthur (NDC-Amenfi Central), was contained in the questions section of the Order Paper of the House on Monday.
In other business; a support agreement between the government, Cascade Development Company Limited and the Gold Coast Resorts International Limited to redevelop the Accra race course to include a five star hotel, shopping mall, office and residential buildings, was laid before Parliament.
Also to be laid in the House is a 12 million dollar loan agreement between the government and the Saudi Fund for Development for the phase two of the rehabilitation and expansion of the Bolgatanga Regional Hospital.
The Speaker, Ebenezer Sekyi Hughes, referred the agreement to the committee on Finance and the Joint Committee on Finance, Trade and Tourism respectively, for consideration and report.
Meanwhile, the Lands Commission Bill was taken through the consideration stage, where amendments were made by members to certain provisions.
The Bill, which was presented to the House and read the first time on August 14, seeks to consolidate into a single piece of legislation, subject to the constitution, the existing laws on major public institutions which manage and administer land and have interest in land.
This is to improve service delivery and also to create a one-stop-shop for land management and provision of services that relate to land.
A report by the Committee on Lands and Forestry signed by its chairman, Joseph Boahen Aidoo, noted that "the fragmentation of these agencies over the years has made land administration and the provision of land services very difficult and expensive."
The difficulties, the report said, include scattered and restricted access to records, obsolete operating procedures, conflicting and unclear mandates, duplication of efforts and responsibilities and, to some extent, waste of resources.