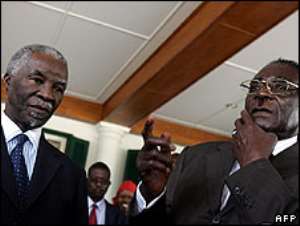 A summit of African leaders in Zimbabwe has failed to reach a breakthrough to end the country's political deadlock, say government officials.
Power-sharing talks between President Robert Mugabe and his rival, Morgan Tsvangirai, have been taking place in the capital, Harare.
The process has been deadlocked over the allocation of key cabinet posts.
The Southern African Development Community says a larger regional summit should be held to try to reach a deal.
Six weeks have passed since Mr Mugabe and Mr Tsvangirai shook hands in Harare and signed what appeared to be an historic power-sharing agreement.
But attempts to form an inclusive government have run into serious trouble, BBC Southern Africa correspondent Peter Biles reports.
On Monday, Mr Mugabe and Mr Tsvangirai held 13 hours of talks under the continued mediation of South African ex-leader Thabo Mbeki, with leaders from South Africa, Angola, Mozambique and Swaziland.
The meeting had been due to take place last week in Swaziland, but Mr Tsvangirai said he could not attend as the Zimbabwean authorities had refused to give him a passport.
Mr Tsvangirai's Movement for Democratic Change says President Mugabe and his party, Zanu-PF, seem intent on controlling all the important ministries and sidelining the MDC.
Regional leaders from SADC had hoped to use Monday's summit to put pressure on Zimbabwe's rival leaders to bring an end to the political impasse.
But following a day of talks, they released a statement saying the talks had failed, and calling on all member states to hold a summit "to further review the current political situation in Zimbabwe as a matter of urgency".
'Bully'
UN Secretary General Ban Ki-moon on Monday said that it was "urgent to resolve the ongoing political impasse so that recovery can begin".
A statement issued in New York said he was concerned that "the humanitarian situation in the country may worsen in the course of 2008 and 2009".
"Our commitment is to an equitable power-sharing arrangement, otherwise we are not going to be party to it and we may as well look for alternative political options," Mr Tsvangirai told a rally of his supporters on Saturday.
"When it comes to negotiations, no-one is to bully us."
The MDC leader has threatened to pull out of the deal, under which he would be named prime minister.
Mr Mugabe has allocated the key ministries of defence, justice and foreign affairs to Zanu-PF.
After four days of talks earlier this month, he agreed to let the MDC have the finance portfolio.
The deadlock is centred on the question of who gets responsibility for the home affairs ministry, which controls the police.
The deal specifies that Zanu-PF should have 15 ministries, Mr Tsvangirai's MDC 13 and a breakaway MDC faction three.
But Zimbabwean journalist Brian Hungwe says the MDC also wants a share of provincial governors and ambassadors.
Although Mr Mbeki remains the facilitator of this tortuous process, some observers say he may have lost some of his influence since being forced to resign as South African president just days after brokering the deal.
The MDC has long criticised Mr Mbeki for his policy of "quiet diplomacy" towards Mr Mugabe and has previously called for him to be replaced.
"We respect Mbeki but quiet diplomacy has its limits if it leads to quiet approval of wrong things," Mr Tsvangirai said.