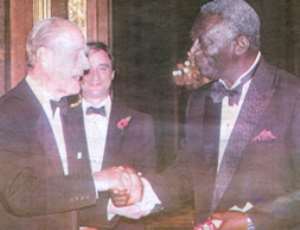 The President, Mr J. A. Kufuor, added to his badge of honours when he became the proud recipient of this year's Chatham House Prize at a magnificent ceremony at the Drapers' Hall in the City of London last night.
To the delight of an august audience, including the Asantehene, Otumfuo Osei Tutu II, President Kufuor was presented with a crystal award by the Duke of Edinburgh and a scroll signed by Her Majesty The Queen.
The colourful ceremony, attended by corporate members and a large number of dignitaries from Britain and Ghana, also had a touch of Ghanaian culture and folklore, as well as tradition, amidst which President Kufuor was eulogised for his contribution to peace and, economic growth in Ghana, as well as the stability of Africa.
Known as the 'Gentle Giant', the President has taken a leading role in mediating in regional conflicts, including those in Liberia and Cote d'lvoire.
During his tenure as Chairman of the African Union in 2007, President Kufuor worked selflessly and tirelessly to mediate in multiple crises across the continent, particularly the post-election conflict in Kenya.
This year's nominees for the Chatham House Prize included Aga Khan, Founder of the Aga Khan Development Network; Angela Merkel, the Chancellor of the Federal Republic of Germany, and Ambassador Christopher Hill, the Assistant Secretary of State for East Asian and Pacific Affairs Department of State of the United States.
Some of the dignitaries supported the award event by taking sponsors' tables at £150 each.
Additionally, the Chatham House published a special report for distribution across the globe to promote investment in Ghana. Some of the contributors of articles published in the report included President George Walker Bush of the United States and Angela Merkel.
Receiving the award, President Kufuor expressed deep appreciation to the Chatham House and said he shared the award with the people of Ghana who gave him the mandate to serve.
He said the award had given him "an impetus to continue to be relevant to our world".
By the award, the President becomes an automatic member of the prestigious Chatham House Award.
Presenting the award, the Duke of Edinburgh recalled his association with Ghana since its independence.
The annual Chatham House Prize is awarded to the states person who is deemed by the Chatham House members to have made the most significant contribution to the improvement of international relations in the previous year.
The selection process draws on the expertise of Chatham House's research teams and three presidents Lord Ashdown, Lord Hurd and Lord Robertson and the rest of the members are then invited to vote for the winner in a ballot.
The Chatham House has been the home of the Royal Institute of International Affairs for over eight decades. Its mission is to be a world-leading source of independent analysis, informed debate and influential ideas on how to build a prosperous and secure world for all.
Source: Daily Graphic