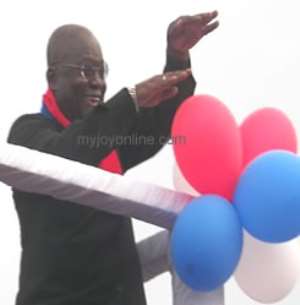 The presidential candidate of the NPP says the NDC demonstrated gross incompetence and inefficiency in managing the economy during its tenure.
He explained that, after 19 years in government, the PNDC/NDC government left the country with a national reserve of 235,000 dollars, which could serve the country for only three weeks imports.
Nana Akufo-Addo said after less than eight years in government, the administration of the NPP had raised the national reserves to 2.6 billion dollars through prudent management of the economy.
He was speaking at a rally at Begoro on Sunday as part of his four-day campaign tour of some parts of the Eastern Region to introduce himself to the people in the area and to seek their mandate for election at the December polls.
Earlier in the day, Nana Akufo-Addo and his campaign team joined worshippers at Anyinam Presbyterian and the African Faith Tabernacle Churches, where he urged the two churches to pray for him for God to grant him the strength and leadership qualities, so that when voted into power, he could provide the country with the required leadership.
Nana Akufo-Addo said although President Kufuor's government had done so much for the development of the country, there were more to be done, and assured the people of Begoro that if their road and water problems were not solved by the end of President Kufuor's rule, he would solve them when voted into power.
He assured the people of Fanteakwa that when voted into power, he would ensure the development of the oil palm industry in the area to help create wealth and provide employment to the people of the area.
Ms Gloria Akufo, a former Minister and Ambassador designate, said the party had accepted the challenge to use its campaign slogan for 2000 elections to call on the people to examine their standard of living to decide, which party to vote for.
She explained that if children could go to school without paying school fees and be fed at school at no cost to their parents, women could deliver at hospitals free and the citizens could get access to good health care through the National Health Insurance Programme, then the standard of living of the child and the parents had been raised enough for them to vote for the NPP.
Mr Kwabena Agyepong, former press secretary of President Kufuor said a vote for Professor John Evans Atta-Mills was a vote for former President Jerry John Rawlings to come to power and impose curfew on the country and institute brutalities against the people of Ghana.
Nana Akufo-Addo and his campaign team addressed similar rallies at Abomosu, Osino and Kukurantumi.