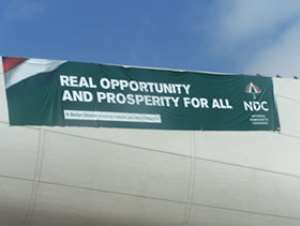 Nii Nortey Dua, National Democratic Congress (NDC) parliamentary candidate for the Ledzokuku constituency has reminded the youth to see themselves as agents of change in society.
For this reason, he said, the youth should educate the people in order to help liberate their minds from ignorance.
Nii Dua gave the reminder at the inauguration of Young Brothers and Sisters Club, a social organisation, at Teshie uring the weekend.
The club, formed in 2002 with an initial membership of seven, can now boast of 37 members.
Nii Dua took the opportunity to advise his constituents about the need to be vigilant during the upcoming elections and ensure that they exercised their franchise.
The NDC Parliamentary Candidate warned them against the selling of their voting rights for monetary gains, adding that, it was only through voting that they could help determine the way in which the country would be governed.
He advised members of the club to do away with divisive tendencies, and forge ahead with a united front in order to achieve set goals.
Mr. Samuel Akantion, a teacher who swore the 13-member executive of the club into office, urged them to go about their duties with dedication and commitment.
Mr. Seth Adasu and Mr Samuel Laryea, Chairman and Secretary respectively of the Club, pledged that the officers would endeavour to live up to expectation, and not lord it over the people.