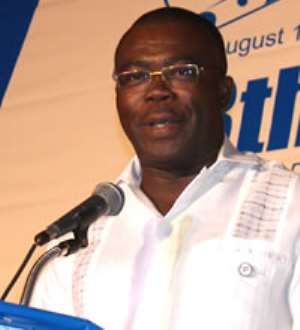 Information Minister Stephen Asamoah Boateng says he loves his job and believes those close to him and who see him perform are happy with what he does.
On the whole, he believes he has more admirers than loathers.
Asamoah Boateng was responding to a jibe by Kwame Sefa Kayi, MC at the Ghana Journalists Association, (GJA's) 13th GJA Awards Night on Saturday who had invited the minister to make solidarity comments and introduced him to the august gathering as a man loved and loathed in equal measure.
"I'm not sure I'm hated but I'm sure I like my job, and people who probably see me work hard love me most than hate me. But I put a lot of effort into making sure that journalists are given due respect and also carry about their duties without fear or fervor. I'm available for everybody, but if you do go wrong then I tell you off."
Turning on the output of journalists in the country, Asamoah Boateng said in spite of difficulties and ups and downs, journalists had distinguished themselves generally.
"But one thing I want to say is that I want you to respect your own organizations and pay respect to your leadership and when you go wrong and you are brought back to the main line, please respect the advice given to you. Often a time, when the NMC (National Media Commission) has to caution/advice journalists, they refuse even to attend meetings organized to hear their cases."
Asamoah Boateng also called on Journalists to do all they can to strengthen the association, advising that in big numbers, the association would be strong enough to counter any adversity.
He further asked journalists to report the coming elections with all objectivity and not to cloud the picture of events. "I believe we would get through this election period in one whole piece as a nation and journalists in Ghana will be proud of the role they played."
Story by Isaac Yeboah