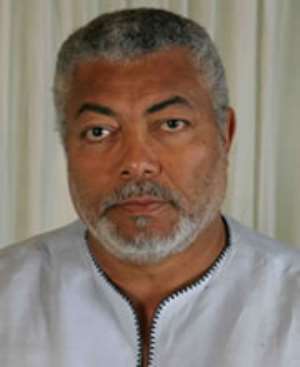 Former President Jerry John Rawlings, on Sunday interacted with supporters of the National Democratic Congress (NDC) at Asawasi in Kumasi as part of his campaign tour of the Ashanti Region to solicit votes for the party ahead of Election 2008.
The former President recounted NDC's past socio-economic achievements and educated the electorate about programmes the party would execute if voted in December.
Former President Rawlings urged Ghanaians to be vigilant ahead of the polls, alleging that the New Patriotic Party (NPP) had the intention of rigging the polls to cover up its misdeeds.
He called on the electorate to reject the NPP and vote massively for the NDC because NPP had failed to deliver on its campaign promises of improving on welfare of Ghanaians.
Former President Rawlings attributed high utility bills, high unemployment rate among the youth and poverty in the country to mismanagement of state resources and bad economic policies of the NPP Government.
He said this situation had resulted in hopelessness, stressing that many of Ghanaians were yearning for change and sustenance of freedom and justice.
Alhaji Mohammed Mubarak Muntaka, NDC parliamentary candidate for the Asawasi constituency, called on the electorate to reject gifts from political opponents of NPP and vote massively for the NDC.
The parliamentary candidate said he was visionary and continue to contribute to the development of the constituency.
Source:GNA