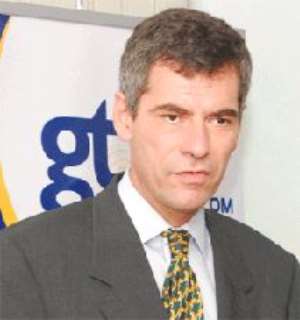 Gham Telecom-Vodafone's Director of Integration, Mr Eric Bourland, has said that the company has increased its customer base significantly, 60 days after Vodafone took 70 per cent ownership of the telecom company.
"The company has recorded significant achievements in every area of its operations, including growing the mobile service customer base by six per cent over the last 60 days of the integration," the Director of Integration said.
Mr Bourland said this at the second of a monthly press briefing instituted by the management of Ghana Telecom to inform the public about its operations and developments since August, when Vodafone got on board.
He said the fixed network, where questions had been raised about Vodafone's ability to deliver, was also making strides, and promised Vodafone's commitment to ensure that the wheels of the company kept turning.
The acting Head of Onetouch, Mr Stephen Badu, enumerated some of the successes the mobile network had achieved, including a 300 per cent increase in the monthly roll out of cell sites, an 161 per cent increase in international in-bound revenues, six per cent net growth in customers as well as adding new voice and data roaming destinations.
He stated that plans were on course to deploy 500 link devices in some selected schools in November to enable students to communicate with the outside world while in school without breaking the law of the Ghana Education Service (GES) that barred students from using phones in school.
As part of the company's corporate social responsibility, he said five communities in five regions would benefit from the link service under the Vodafone brand.
The General Manager (Marketing) of the Fixed Network Services (FNS), Mr Joseph Wireko, said since August last year and the last 60 days, the company had recorded its highest ever sales achievement, while customer acquisition of Broadband4U had tripled.
He added that the southern ring of the national fibre network had been completed.
In the last 60 days, 40 members of staff had benefited from overseas training, while 721 have also received training here in Ghana.