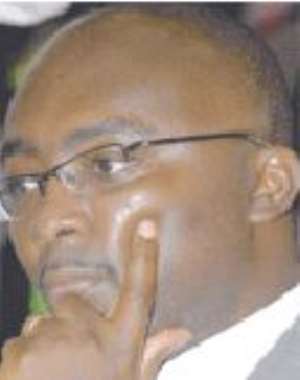 Running mate of Nana Addo Dankwa Akufo-Addo, the New Patriotic Party (NPP) Pesidential Candidate, has stated that, the National Democratic Congress (NDC) cannot be trusted to handle the Ghanaian economy having failed to do so during its 19 years in government.
Dr Mahamudu Bawumia, explained that, for the seven-and-a-half years in office, the NPP had proven that it was capable of managing the economy which had been shattered by the NDC.
Addressing students of the Sunyani Polytechnic (S-Poly) at the weekend, Dr Bawumia, explained that, the NPP inherited a HIPC economy but within a very time the party, under President J.A.
Kufuor, had been able to turn the economy around to make it one of the best in Africa.
The Party, he said, had a big vision for Ghana to achieve a middle-income status by 2015, and therefore, called on Ghanaians to return the NPP to power for it to realise such a laudable goal for the country.
He pointed out that the NPP had ensured a peaceful and stable state, freedom of speech and that Ghanaians could now go about whatever enterprise they were engaged in freely and without any hindrance, a situation he said never existed previously.
According to the NPP running mate, the introduction of the National Health Insurance Scheme (NHIS), the Capitation Grant and the School Feeding Programme and many other interventions were testimonies that, the country was on the threshold of progress.
That, he said, could come about only when the electorate voted massively for the NPP in the December polls, adding that, a vote for Nana Akufo-Addo and the NPP meant a vote for a total transformation of the economy.
Dr Bawumia, however, advised the youth not to resort to violence of any form to mar the electoral process, pointing out that, as a democratic party, the NPP believed in the rule of law and absolute peace.
Story by Akwasi Ampratum-Mensah.