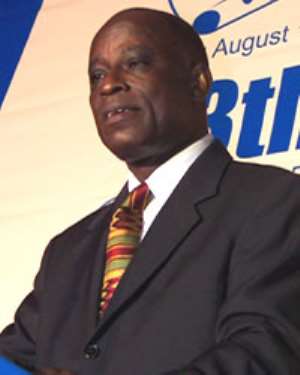 H.E. Dr. Kabral Blay-Amihere, Ghana's Ambassador to Cote d'Ivoire and one time President of the Ghana Journalists Association, on Saturday paid glowing tribute to businessman and football administrator, Mr. Herbert Mensah and his longtime associate, Etienne Hennes of M-NET fame, for their quality and professional input in the organization of the GJA Awards.
Kabral, chairman of the 13th GJA Awards Night held last Saturday at the Banquet Hall of the State House in Accra, said from a humble beginning some 23 years ago, during which period the awards ceremony and the available prizes for best performing journalists were nothing to write home about, it took the intervention of Herbert Mensah and Hennes, among others, to infuse high professional standards.
"I want to use this occasion to commend successive presidents and executives of the GJA, particularly the administration of Mrs Gifty Afenyi Dadzie, for keeping the momentum of this wonderful event. I must also pay tribute to Mr. Bright Blewu who as General Secretary of the GJA since 1995, and administrator of the press centre, has been the pivot around which the award ceremony and other media events and programmes of the GJA have been organized. Last but not the least, a special mention of Mr. Herbert Mensah and Etienne Hennes of M-NET, who by sponsoring the GJA brought into it higher standards and excellence and I'm sure if Herbert is somewhere, he should be very pleased that the standards that he set for us are being met in tonight's ceremony. Herbert, Thank you very much," said Kabral.
The Ambassador had explained that many leaders, "for all their foresight and vision, can never be sure that their policies and programmes would stand the test of time after they are gone" and was therefore glad that the GJA continued to nurture the awards ceremony and most significantly, making it as independent as it ought to be.
Tracing the beginnings of the awards night from 1985, Kabral said there were no sponsors for the programme, and the two most important prizes out of a total of four categories, were a kente cloth and a stool donated by a traditional chief, Nana Kwame Korang of Odomase (Awuah) near Sunyani in the Brong Ahafo Region.
"That I cannot remember the other prizes shows that they were nothing to write home about."