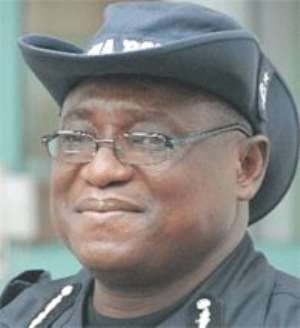 Director-General of Police Operations, DCOP Patrick Timbillah, is urging personnel of the security services to help erase the perception that the services support the government.
He said they could do this in a manner that would potray their neutrality to society.
He said the neutrality, firmness, fairness, resoluteness and consistency of the personnel, coupled with a high sense of professionalism, would win them public confidence and disabuse the minds of people of any suspicion of bias.
He was addressing Crime and Public Affairs Officers of the Ghana Police Service at a day's workshop on monitoring the elections ahead of the December polls in Accra.
DCOP Timbillah listed challenges associated with the elections to include clashes at political events, disobedience of the Public Order Act, protests, late arrival of election officers and materials, the general conduct of election officers, party agents and voters and campaigning during voting.
Other problems, he noted, were the hijacking of results/ballot boxes, protests at polling stations and collation centres, inability to trace names, missing voter ID cards of potential voters, preventing minors/aliens from voting, illumination at polling stations and collation centres, poor routes to polling stations, feeding of polling agents, electoral and security officers, as well as transporting election materials to collation centres.
DCOP Timbillah also drew participants' attention to post-election problems, including protests regarding rejected ballots, signing of results by polling agents after counting, reaction to results, riot and disorder at the swearing-in ceremony.
The director-general said it was in view of those challenges that the National Elections Security Task Force had outlined a comprehensive security arrangement to ensure a safe and secure environment for peaceful electioneering before election day and thereafter to ensure post-election peace.
He said the programme, which had been divided into three phases, gave the police a leading role, supported by the other security services, with the Ghana Armed Forces taking over from the police to restore law and order when necessary.
DCOP Timbillah said Phase I of the security operations, which started on September 8, would end on December 6, a period which would be characterised by intensified political campaigns and preparation/distribution of electoral materials and personnel throughout the country.
He said Joint Operations Room staff were expected to be deployed by December 1, while personnel of the Rapid Deployment Forces (RDFs) would be deployed by December 4, 2008.
DCOP Timbillah said Phase II, which would start from December 7 to 10, 2008, would be characterised by the casting of votes, counting of votes/compilation of results, tension and anxiety associated with the elections, recovery of election materials and personnel, announcement of results and possible conflict and violence.
To deal with the security threats associated with Phase II, he said personnel of the security services would be deployed at all polling stations, escort and protect election officers and materials, as well as maintain and restore law and order at all flash points.
According to him, the RDFs would be maintained in central positions, monitor situation reports through joint operations rooms, that is, election control centres, maintain close liaison with the Electoral Commission and intensify day and night patrols.
Phase III, which would span the period December 10 to March 10, 2009, he said, would be characterised by the declaration of results/conceding defeat, victory rallies, protests/demonstrations by the defeated, trading of accusations and crowd disturbances, a second round presidential election, if necessary, and the possibility of non-acceptance of election results, albeit limited or general.
DCOP Timbillah said the security services were expected to enhance Operation Calm Life, monitor post-election activities, maintain the RDFs and maintain border security in conjunction with other security agencies and the security forces of neighbouring countries.
The director-general stressed the need for the security personnel to have a perfect knowledge of the Criminal Code, the conduct of elections, roles of all stakeholders, basic election laws, political parties code of conduct, the political terrain, political parties and their leadership, candidates, polling stations and collation centres.
In that way, he said, the personnel would be on top of any task assigned them in relation to the elections.
The News Editor of Metro TV, Ms Mariam Acolatse, said the media were expected to create equal opportunities for all stakeholders, irrespective of their political affiliations.
She said it was important that the public appreciated that role in order not to inhibit the work of the media.