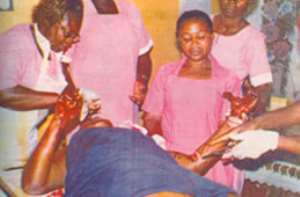 Dear Sir,
My name is Bernice Fosua, a 43- year-old native of Akwapen Abiriw. I am presently a resident of Deduako near the University of Science and Technology Kumasi.
I was butchered severely in the year 2004 by one Francis Appiah, a relative of a landlord in whose house I lived with my husband at Ejisu, in the Ashanti Region.
As explained in the Saturday Statesman Publication attached to this letter, I must say I was only saved by miracles of Christ Jesus through the nurses and doctors of the komfo Anokye Teaching Hospital when I was hospitalised for nearly a year.
Since then, several efforts I have made to seek justice for my predicament has proven futile. When the incident happened, the accused person, Francis Appiah was arrested by the Ejisu police and sent to court for prosecution but was immediately granted bail and the case has been pending in court for more than four years now.
Judging from what's happening now, I have been made to suspect that the family of the accused person has bribed the police, officials of the Attorney General and the various judges who have sat on my case to have it killed.
Justice for me has been delayed and so denied and there is nothing I can do for myself but to go to court in October this year and raise my hand up as a way of withdrawing the case.
Even though my health condition has deteriorated to the worst for the past one year, I'm compelled to walk to the Kumasi High Court twice every week.
For the past six month my case has been consequently been postponed without any reason. Anytime I question the prosecutor about it she would insult me and sack me from her office.
I'm becoming weak everyday and nearing death because I can't afford to seek extensive medical attention. Indeed you are my last resort, hence my call on you for intervention. Please help me seek justice for my predicaments since you believe in fair trial and justice. After this entire nation, Ghana believes in freedom and Justice.
Though I'm very poor, I believe justice is not for the rich in society and the bully and I can still get one so please I count on you for help.
I don't need money but justice for the worst for of human right abuse that I have gone through in my life.
I'm doing this because my health is fast deteriorating and I'm expecting death in the next two year as doctors have predicted.
They had to cut one of my legs which was experiencing low blood flow from the veins. After the incident I was divorced by my husband who left all the three children for me to cater for. This has put hell on me and its killing me softly.
I think in a world of injustice to humanity, committing suicide isn't a sin. But before that, the world would have to know about my predicament and what a so called human being can do to his fellow.
'Butchered' woman cries for justice
Story published in the October 23 edition of the Statesman newspaper
Three years ago, Bernice Fosua was severely assaulted by Francis Appiah, her landlord's brother, at Ejisu in the Ashanti region but has continuously been denied justice and not even the Attorney General's Department has been able to get the wheels of justice to speed up on her behalf.
In an interview with The Saturday Statesman last Friday in Kumasi, she recalled the ill treatment meted out to her by the officials of the Attorney General?s Department in Kumasi when she went to inquire why there has been delay in the hearing of her case.
This paper gathered that the Ejisu Police Command arrested the culprit and charged him with manslaughter. The case commenced at Kumasi High Court 3, and was presided over by Justice Abraham. The case was later transferred to High Court 6. After initial hearings, the case was moved out of Court Three to Court Two for reasons still unexplained.
Meanwhile, the family of the accused has obtained a report from the Psychiatric hospital stating that he was insane, and he has since been granted bail.
This reporter gathered that this act was not the first to have been carried out by Francis Appiah. Information from the Ejisu Police indicated that the accused person has been nicknamed 'professional human butcher? In the area.
He is said to have inflicted severe cuts on three men some years ago but all the cases were solved out of court because of the backing he gets from his family.
Narrating her ordeal to The Saturday Statesman, Bernice Fosua said she decided to raise poultry in her rented Ejisu residence in the early part of 2004 to help cater for some of her financial needs but before long, she discovered that her fowls were missing. She conducted investigations and realised that Francis Appiah stole the fowls. She confronted the accused who confirmed that he let them loose since they (fowls) constitute a nuisance.
In her words, "his next action after the approach was to ask me to vacate the house or he would do it by force. Because I had no money to rent a house then, I pleaded with him to give me some time, but he wouldn?t listen".
She said the next day, the accused chased her out with a machete. At a point she tripped and fell and the accused inflicted several machete cuts, leading to her collapse. Onlookers rushed her to the Komfo Anokye Teaching Hospital for treatment. Though she regained consciousness, the injuries to her veins caused blood to stop flowing into some parts of her body.
She is therefore calling on the Minister for Justice and the Attorney General to hear her case. "I cannot afford the hospital bills any more and I need justice for my predicaments" she concluded.
Contact Bernice Fosua on 0248-888252