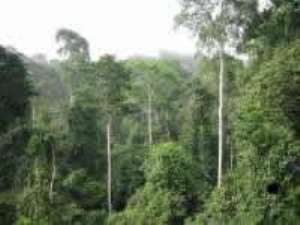 The Renewable Natural Resource Students Association (RENARSA), the student body of the faculty of Renewable Natural Resource of the Kwame Nkrumah University of Science and Technology (KNUST), has expressed "strong disapproval" of the purported redevelopment of the Achimota Forest.
In a statement copied to Joy Online, the President of the Association, Kabore Awudu Moro, was surprised about the government's failure to appreciate the importance and the role the forest plays in people's lives.
"The Achimota Forest as its stands now has a varied biological reservoir, containing several thousand species of insects, birds and other forms of life, many still possibly unrecorded by science.
"The extent and great continuity of this forest is a reflection of the high rainfall, and high humidity that the people of Achimota are enjoying."
Awudu Moro noted that the forest also serves as a sink for the poisonous carbon monoxides generated by the exhaust fumes from vehicles in Accra.
He said the conversion of the forest into a commercial centre would have a severe implication for the nation as a whole.
"The role forests play at the global level in weather, climate change, oxygen production, and carbon cycling cannot be underestimated. The sad thing is that the common denominator for the destruction of the forest is for the pursuit of short-term gains at the expense of long-term prospect, both economic and environmental."
Awudu Moro said while many countries are trying hard to promote ecotourism to conserve their reserves as well as generate wealth, "it is evident that this country is rather focused on destroying the little that we have"
RENARSA is therefore asking the government to immediately rescind its decision on the Achimota Forest. The students have also threatened to organize themselves and major stakeholders to protest against "this unfortunate decision", if the government does not listen to their demand.
Meanwhile, the government has denied the purported sale of the Achimota Forest.
Story by Isaac Essel