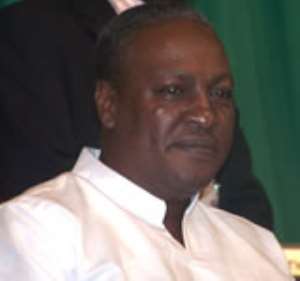 Mr Kwasi Aboagye,
Volta Regional Vice Chairman of the National Democratic Congress (NDC) on Saturday described the campaign tour
of Mr. John Dramani Mahama, Vice Presidential Candidate of the party to parts of the Region as a great success.
He said, "the tour has rekindled the spirit of the people and restored hope in them that the NDC will win the December election."
Mr Aboagye, who was speaking in an interview with the Ghana News Agency on the chances of the NDC in winning the December 7 elections said, the rousing welcome the people gave to Mr Mahama was assuring.
"Let me quickly say that the humility in which Mr Mahama addressed the rallies, the persuasive explanation of national issues, without insulting anyone were sufficient to convince everybody that the NDC was in for a decent fight," he said.
"There was not a single rally that Mr Mahama incited the people against his opponents."
He said Mr. Mahama has showed a great attribute of a matured leader that our century needed.
Mr Aboagye said; "I am even happy that Mr Mahama constantly referred to the former President Jerry John Rawlings achievements warmly as much as he emphasized the vision of Professor John Evans Atta Mills, NDC Presidential Candidate and that of the party.
Mr Aboagye who was one time Deputy Volta Regional Minister in the NDC regime said it was wicked to say that the NDC neglected Volta Region.
"It was during our regime that the perennial water shortage in the Ho Municipality was brought to an end and connected the whole region to the national electricity grid.
"It was the NDC that built a state of the art regional hospital at Ho and two others in Cape Coast and Sunyani in the Central and Brong Ahafo Regions respectively", he added.
Mr Aboagye said the NDC did not neglect the road network in the Region while a number of bungalows for Junior Secondary schools were built and many primary and District Hospitals and Health Centres were established.
He said the NDC prudently worked within the management of scarce resources and as a developing country, "we must admit that we cannot provide all the needs of the people at a go."
"All the same, we did out best, Mr Aboagye said for the past eight years the people in the Region themselves are the best judges if they compared the period of the NDC and that of the New Patriotic Party.
He said, "the NDC can still do better when it comes to power in January next year because we have a leadership that Ghanaians can trust to deliver through hard work and honesty.