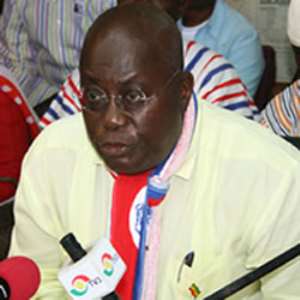 Nana Akufo-Addo
The presidential candidate of the NPP, Nana Akufo-Addo, has promised a significant increase in jobs to curb Ghana's unemployment rate when elected to form the next government.
He observed that the nation's industries would be expanded with the necessary investments and the proper public-private-partnerships to generate hundreds of jobs for the populace.
Nana Akufo-Addo made this known when he delivered a speech on industrialization and job creation in the Volta Aluminium Company (VALCO).
These jobs, Nana said, would be well paying jobs which would move the country forward into prosperity.
To start with, Nana promised to set up a $1 billion Development Fund to help young people with great ideas to start something on their own.
"To complement this, as I promised the Association of Ghana Industries in May, my government will pass an "SME's CHARTER BILL" to support Small and Medium Scale Enterprises," he said.
He urged the youth to get educated in preparation for jobs in the near future.
The presidential candidate said the confidence level in the Ghanaian economy had grown significantly in part due to the sound macro economic policies and adherence to the rule of law by the Kufuor administration, which he hopes to continue.
"This year's foreign direct investment according to the Ghana Investment Promotion Council, will reach the 5 Billion USD mark for the first time in our history," he said.
Future of the aluminium industry
Nana Akufo-Addo said government's negotiation with both Kaiser Aluminium Company of Huston USA and Aluminium Company of America in Pittsburgh (AlCOA) has provided an opportunity to attract major global players of the industry to partner government to create a new frontier of industrialisation.
He announced that VALE do Rio Doce of Brazil, the second largest mining company in the world and owner of the largest alumina refinery in the world, and Norsk Hydro Alumina Company would team up to develop the bauxite mines in Kyebi and Nyinahin, all linked to railway to the alumina refinery site in Tema.
He said government under his leadership would raise funds to develop the iron ore industry in Ghana.
The NPP flag-bearer said the crude oil in Ghana must not only be exploited for export but rather refined and used completely to its final point of chain; in plastics, bitumen etc, in order to earn significant number of jobs and earn huge foreign exchange.
To prepare for the county's future, Nana said the next NPP government would complete the West African Gas Pipe Line Project, expand the Aboadze Thermal Plant, and construct new dams on the Ankobra and other rivers.
The Chief Executive Officer of VALCO Dr. Charles Mensa later took Nana and some members of his campaign team including Alan Kyeremanten, Yaw Osafo, Prof. Mike Ocquaye, Dr. Nyaho Tamakloe, Vicky Bright and Sammy Crabbe round the company's processing plant.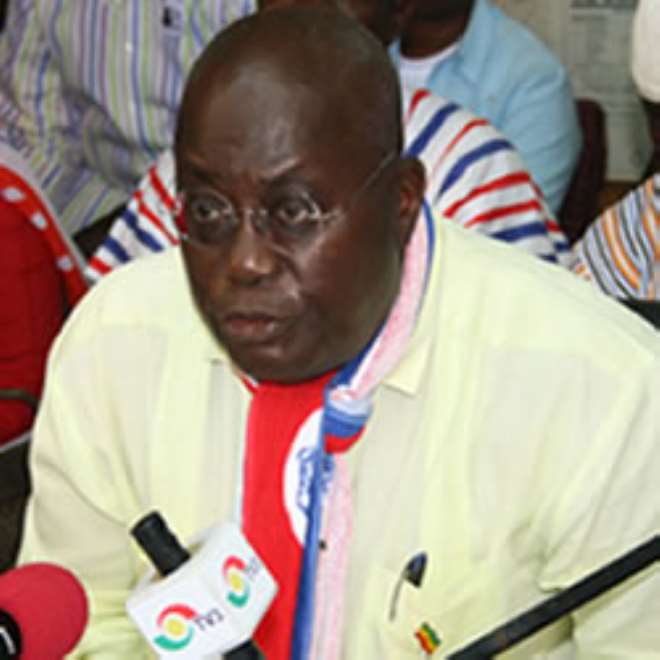 Nana Akufo-Addo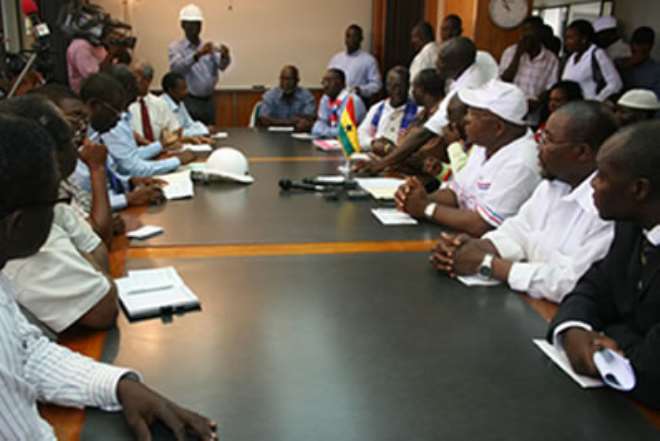 Some leader members of the NPP at the VALCo