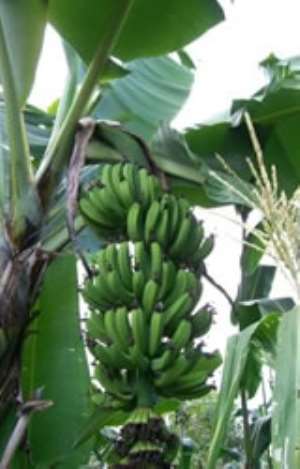 Ghana Trade and Livelihoods Coalition (GTLC), a nationwide farmers' advocacy group, says it will continue to demand from government an enhanced support for all hardworking farmers to enable them to increase productivity and reduce poverty.
Speaking at the third National Farmers Week Durbar at Dalung near Tamale, Mr. Ibrahim Akalbila, Coordinator of the Coalition, said the group was demanding from government an incentive that guaranteed farmers access to credit, markets for consumption and value addition and protection from unfair global trade.
The Coalition instituted the week in October 2006 to target the National Farmers Day celebration through a number of activities to highlight the challenges faced by farmers, especially those in the food crop sub-sector.
Mr Akalbila said a review of all the themes of the National Farmers' Day celebrations since 1990 had shown the laudable intentions of government, however, the increasing proof was that the celebration over the years had not helped to develop agriculture in the way that would ensure sustainable development.
He said rather than pay lip service to the agriculture sector, it was important that government set productivity and infrastructure development benchmarks every year for the National Farmers Day and work with farmers, agro-based industries, and research institutions to attain the set targets.
"The best way to reward farmers is for government to guarantee access to their national markets, to be given targeted investment, to ensure the strict implementation of policies, have access to favourable credit facilities and support farmers to add value to their produce to be competitive on the Ghanaian market."
As a first step, he said, the government must make use of existing policies such as Food and Agriculture Sector Development Programme (FASDEP II) and the ECOWAS Agriculture Policy to guide it in driving the growth of the sector.
Issahaku Muhammad Alhassan, Secretary, Botanga Peasant Farmers Association, said farmers in the region were facing many challenges, including lack of farm inputs, lack of credit facilities and ready markets for their produce.
Mr Alhassan appealed to government to assist farmers in the region with the needed inputs and facilities to enable them to undertake an all year farming.
Mr Mohammed Adam Nashiru asked government to make credit available to all farmers, build more irrigation dams and rehabilitate the old ones in the region.
He said more could be done to support the farmers, especially those in the three northern regions, which had in the past being the nucleus of agricultural production in the country.
Mr Nashiru said the trend had changed because the local industries, which used to create employment in the agriculture sector in regions, had collapsed.
This year's Farmers Durbar was on the theme: "National Farmers' Day: Farmer Efficiency, Government Inefficiency. What Next?" he said.