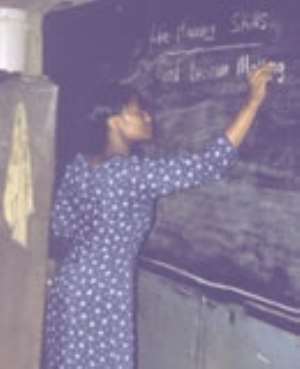 These are better days for teachers and teaching. There used to be a very demonstrative teacher who wanted his class to have a feel of the verb 'jump' as a 'doing word'.
That teacher was very practical in his approach, but alas he was dead drunk. He took 'quarter' of Mahogany Peters (bitters) before coming to school.
Jumping up and down, he asked the class, 'What am I jumping?'
The class was totally confused but had to save the day. In one unified voice, they responded, "We are doing!"
I am told Ghana Education Service (GES) has over the years sacked drunken teachers from the service. Others who have left are teachers who used little girls for play-things on their laps. The girls went home with deep lacerations that the class teacher could not explain was due to very Hood teaching methods. Others got pregnant.
Teaching is noble and teachers are honourable. The profession must be made dignifying and stakeholders better see to this. At least today, best teachers are getting properly honoured in the districts, regions and at the national level.
.
That is motivational, but I guess everybody would want many more teachers to be honoured. Teachers in Ghana are many, and there are many good teachers in there who will never get noticed and honoured.
Now, even if the state cannot honour all those teachers, Ghana National Association of Teachers (GNAT) can complement the state's efforts by organising its own awards ceremonies to honour teachers who are never recognised for their hard-work and discipline.
If you talk to some teachers, you will hear them complaining bitterly about GNAT. At a point, some were even planning to form their own associations as graduate teachers have done with NAGRAT, headed by hard-bargainer, Alorvi.
NAGRAT is today better off and GNAT has been put on its toes to also do better. We are seeing changes, though. GNAT is going to the grassroots, organising programmes, but believe me teachers are still not happy. When they start pouring their grievances, it doesn't stop!
Some are doing distance learning to quit the profession altogether. When you ask them what GNAT has done so grievously, they tell you the association doesn't account to its members. I hope that is not the case. But is it also true that the leadership of GNAT hardly changes?
And what does the association do when a member loses his or her life? What packages are in place?
Coming to think of it, teaching is still a very popular profession. The training colleges are always full of new entrants, but when they complete training and see the realities, they become disillusioned.
There are hardly any pupil teachers these days because the training colleges are doing well to fill the vacancies. That is a plus for the colleges. But if we are to lose all those trained brains into banking, insurance and the private sector only because they don't have job satisfaction, then all the efforts go in vain.
Can I end this piece by urging teachers to be a little patriotic in the face of daunting circumstances? The job is basically sacrificial and Ghana can only move forward if people become more nationalistic and are prepared to sacrifice for a noble cause.
Teachers also need to constantly upgrade their knowledge, because knowledge in today's world is constantly updated. God bless all teachers for their dedication and commitment.
Source: The Spectator, Author; Merari Alomele; E-mail: [email protected]