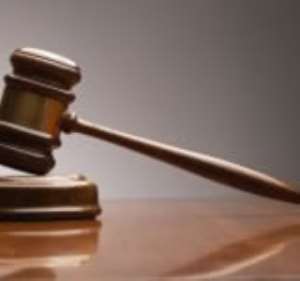 Twenty year-old Richard Osei, a driver's mate broke into tears and wept uncontrollably at an Accra Circuit Court shortly after he was slapped with a five-year jail sentence for causing unlawful harm to his colleague driver's mate.
This was after he had pleaded guilty to two counts of causing unlawful harm to Kojo Aboagye, his colleague who tried to expose him while stealing from a food vendor at the Odawna lorry station near the Kwame Nkrumah Circle in Accra.
The convict was immediately whisked away by the Court Warrant Officer (CWO) in handcuffs from the court room and handed over to the prisons to be conveyed to Nsawam to begin his sentence.
Police Chief Inspector Mary Adika, prosecuting, told the court that on October 13, this year, Kojo, the, complainant called to buy "wagashie", a local pastry made from diary products from a lady.
She said while the "wagashie" seller was moving to where the complainant was, complainant spotted Osei secretly removing some of the food items from the tray the vendor was carrying.
The complainant drew attention of passers by to the conduct of Osei, a situation which embarrassed him and he remarked that complainant should consider himself an enemy from that day.
Chief Inspector Adika said, Richard who was not satisfied with the verbal warning, took a cutlass and inflicted wounds on Kojo's head and rib resulting in profused bleeding. He was rushed to the hospital for treatment.
A complaint was lodged with the Neoplan Police Station and Osei and arrested.
The court was presided over by Mrs. Ivy Heward-Mills.