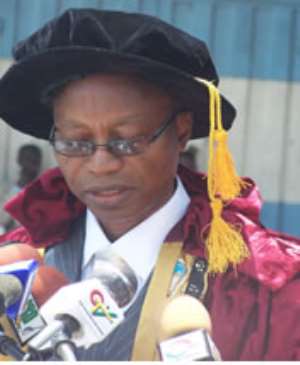 The 2nd Congregation of the Ghana Institute of Journalism has been held on Saturday, with a call on the media to unite the people in the run up to the December poll.
Mr. Solomon Asoalla, who stood in for Dr. Dominic Fobih, Minister of Education Science and Sports, noted the media landscape was saturated with unwarranted attacks on individuals at the expense of key developmental issues.
"I entreat our hardworking media men and women to use lessons of some of our sister nations here in Africa to make their pens build and not destroy," he added.
Speaking on the theme "The media, Politician and Responsibility Towards the 2008 Elections, Mr. Asoalla advised the institute to instil in the students the sense of nationalism for purposes of development.
The Ag Director of the Institute, Kweku Rockson, lamented the paucity of infrastructure which he said had limited the student's intake.
He made a passionate appeal for financial assistance from government and benevolent organisations for the continued development of the new site at Okponglo.
Mr. Ransford Tetteh, President of the Ghana Journalists Association and Chairman of the occasion, entreated the grandaunts to observe the code of ethics in the practice of their profession.
"As future communication experts, it is important to endeavour to contact the relevant public officials and other sources concerned for information before coming out with what you might consider to be factual, verifiable and news worthy," he advised.