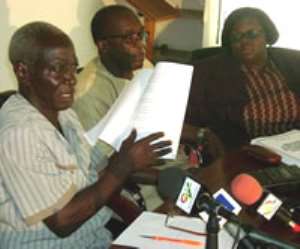 Ballot papers to be used for this year's presidential and parliamentary elections will be printed locally by a classified security printer.
The printing process will be supervised by the Electoral Commission (EG) and its security agents, state security and political party representatives.
Briefing the Daily Graphic in Accra, the Director of Elections at the EC, Mr Albert Kofi-Arhin, said the round-the-clock activity would be done in shifts.
Currently, the commission is verifying the nomination forms of all the presidential and parliamentary candidates to ensure that everything is ready for the printing of the ballot papers.
He said on completion, the EC would issue out the notice of poll, which would show the positions of candidates, their symbols, pictures, names, among other details, as they would appear on the actual ballot paper.
According to Mr Arhin, actual printing of the ballot papers would commence soon after the notice of poll had been issued.
The Director of Elections said on completion of the printing of the ballot papers, the papers would be escorted by state security to the various regions of the country.
Before that, however, the political parties would record the serial and seal numbers of all booklets of ballot papers going to the regions, Mr Arhin said.
That, he said, was necessary for cross-checking purposes by the regional representatives of the political parties on the arrival of the ballot papers in the regions.
He said in the regions, the ballot papers would be kept in the armouries of the Police Service.
A day before the elections, Mr Arhin said, EC officials, in collaboration with political party representatives, as well as security personnel, would inspect the papers to satisfy themselves that no one had tampered with them.
He said the papers would then be escorted to the districts through the same security procedure and lodged at the district police stations.
"We will do all this to ensure that the right quantities are supplied," he stated.
He said at dawn on election day the ballot papers would be picked and sent to the district electoral offices and shared to the various electoral areas and polling stations for voting to commence on time.
Source: Daily Graphic