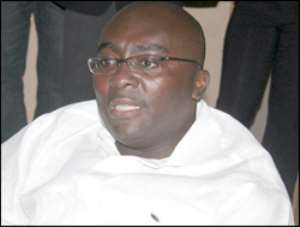 THE NORTHERN and Upper West regions have been politically charged following news of a five-day visit by the vice presidential candidate of the New Patriotic Party (NPP), Dr. Mahamudu Bawu mia.  
The campaign trail of the NPP candidate is expected to hit the north on Saturday.  
NPP T-shirts and other paraphernalia are said to be already in short supply in the Upper West region in particular following a high demand for such items.
A member of Dr. Bawumia's campaign team, Mr. Anthony Kabo told DAILY GUIDE in a telephone interview that the candidate would pay courtesy calls on chiefs, opinion and religious leaders and as well address some durbars and rallies in most constituencies before leaving for Accra on October 29 for the IEA debate, adding that he would be back the next day to round off his tour of the Upper West region after which he would continue to the Northern and Upper East regions.  
Mr. Kabo was optimistic that the tour would positively affect the fortunes of the NPP in the NDC strongholds.