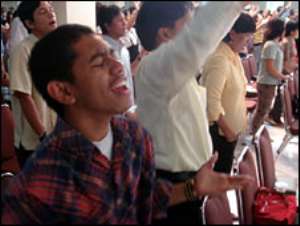 The Obuasi Municipal Education Oversight Committee (MEOC) has directed all churches and other religious groups using classrooms for worship and other activities to put a stop to the practice by December 31.
In a circular to all the heads of the schools concerned, Mrs. Beatrice Prempeh, the Municipal Director of Education, urged the heads to pass on the information to the churches' leaders and their members and also ensure that they quit the premises on the date specified.
According to the committee, the use of the classrooms for worship and other church programmes was doing more harm than good to the promotion of effective teaching and learning as teaching and learning materials posted on the wall of the classrooms were removed with furniture of pupils being destroyed.
"It has been realized that the activities of such churches if not checked are likely to adversely affect the smooth implementation of the Free Compulsory Universal Basic Education (FCUBE) Programme".
The circular said it was in the best interest of the Ghana Education Service in particular and Ghana in general that the committee was carrying out the directive to help promote quality education delivery to the young ones.
To ensure effective implementation of the directive, all school management committees in those schools have been called upon to supervise this very important exercise for the benefit of the school children.