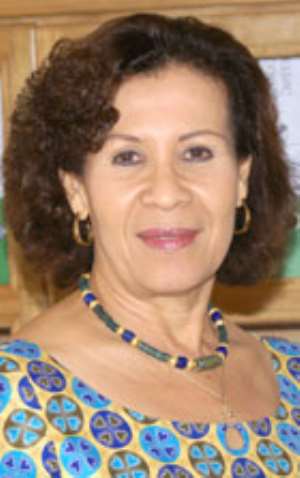 Wife of the Presidential candidate of the Convention People's Party (CPP), Mrs. Yvonne Nduom, has stated that plans are far-advanced by her husband to ensure that Accra is modernized to become the 'star of Ghana', when the party assumes the reins of government in January 2009.
Against this background, she urged the chiefs and people of Accra to support the CPP to enable it wrestle power and implement its human-centered policies to help alleviate poverty in the country. She reiterated her husband's resolve to keep Accra clean within the first 100 days of his presidency, adding that congestion, which is dominant in many parts of the capital, will become a thing of the past.
Mrs. Nduom made these remarks when she paid a courtesy call on the Ga Mantse, Nii Tackie Tawiah III, at his palace in Accra, to seek his support and spiritual help in her husband's quest to become Ghana's next President.
Accompanying her was the Greater Accra Regional chairperson of the CPP, Mrs. Susan Adu-Amankwah; Mrs. Amoako-Atta, a staunch member of the party, Nii Oshu, Greater Accra Regional Youth Organizer, Mrs. Monica Quarcopone, the CPP parliamentary candidate for Korley Klottey constituency; and some other parliamentary candidates in the region.
According to her, the beautification plans earmarked by a CPP-led administration would not only rid Accra of diseases, but also attract a lot of foreign tourists into the country. She explained that the revenue that will be accrued from such visits would be used for the development of the city. This, she indicated will also earn the country a lot of international respect and recognition.
Recounting her encounter with residents of Agege, a suburb of Accra, where most of the people are predominantly fishermen, Mrs. Nduom said that the problems faced by the fishermen in the community are very prevalent in Elmina, where she hails from. In this regard, she stressed that under her husband's administration, premix fuel, which is a big problem for fishermen, will seriously be addressed in the country.
She also pointed out that a CPP-led government is very determined to tackle the problem of pair trawling head-on. She disclosed that her husband's government will deal with this issue by empowering fishermen to form cooperatives, and also support them financially. She gave the assurance that she will make sure that her husband fulfills the party's promises when he wins power.
Continuing, Mrs. Nduom said that when the CPP is given the mandate to govern the country, it will equip and assist naval officers in the country to ensure that they deal with migrant fishermen who reap super normal profits to the detriment of our local fishermen. She reiterated her husband's commitment to ensuring that day care centers are built, especially at market centers, where mothers can devote more attention to their children, and see to their proper upbringing.
The CPP parliamentary candidate for Okaikoi South constituency, Mr. Anthony Mensah (a.k.a Paul Saul), in a brief speech disclosed that the party's leadership has drawn up a proposal that will ensure that the Ga Mantse's palace is refurbished to give it a befitting status.
For his part, the Ga Mantse, Nii Tackie Tawiah III expressed his appreciation to Mrs. Nduom and her entourage for coming to visit him. He commended her for the unflinching support for her husband in the race to the Flagstaff House. He was confident that Dr. Nduom will deliver on his promises if he wins the presidency.