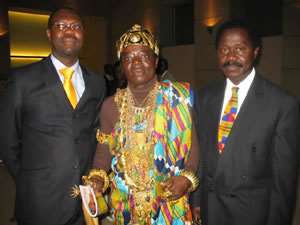 The President of Ghana John Agyekum Kufour did not only embarass the Ghana embassy in Berlin, but showed disrespect to Ghanaians, Africans and friends of Africa in Germany. The few African media houses were present; also in attendance were the Ambassadors and Ministers from Togo, Ethiopia, Mali, South Africa and Cape Verde.
Around 17.00 hours the invited guest started arriving from all over Germany to see the President and wait to be addressed. At about 18.30 hours most of the invited guests were patiently waiting to welcome the President of the Republic of Ghana.
At about 19.30 hours, His Excellency Mr. Grant Ohene Kesse Ghana's ambassador to Germany announced to the displeasure of the gathering that the President is not coming.
Reason: The aircraft the President was to use developed technical problems, the President could therefore not connect from London to Berlin (two major European cities)
The explanation was not satisfactory to the people around. (London --> Berlin) could mean coming late.
However, President Kufour told his people back home he was travelling to Germany, not the United Kingdom.
Comments by visiting guests:
"These African Presidents have no respect for their citizens".
"He would have taking the next available plan if he were to dine with some German state officials".
"We came to Berlin only to drink and eat this tasteless food" says another lady.
"Another gentleman said, for the almost 200 journeys the President made outside the country, how many times has he addressed Ghanaians in the Diaspora".
"A German security man asked if this is the way we rule our country".
"We wasted our time and resources in vain to welcome President Kufour who might not even have it on his protocol to see his people.
God bless Ghana, God bless Africa.
Desmond John Beddy