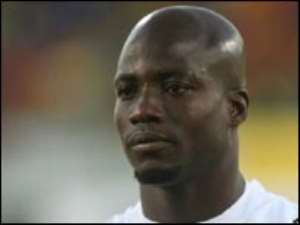 Appiah: We must respect opponents Ghana captain Stephen Appiah is not going over the top about a seemingly favourable draw insisting the Black Stars must work harder to qualify for their second successive World Cup.
The 2006 World Cup finalists were drawn on Wednesday to play Mali, Benin and Sudan in Group D of the final phase of the qualifiers for the 2010 tournament.
Ghana struggled to qualify for the tournament in Germany where they were the only African country in the second round of the tournament.
Appiah says the Black Stars performance at the 2006 World Cup has alerted countries about Ghana's potential and all the three countries in the group are strong opponents who are out cause an upset.
"I disagree with those who think that swe have got an easy group as all the three countries are tricky opponents," Appiah told Ghanasoccernet.
"All of them were at the Nations Cup in January and this tell you that they are strong sides who can beat any team in Africa on any given day.
"Mali has the star players like Fredi Kanoute, Seydou Keita, Mahamadou Diarra and Momo Sissoko and others.
"In the just ended qualifiers sudan beat Mali and Benin destroyed World Cup finalists Angola so this tells you that all the countries are ready."
Ghana struggled in the previous qualifiers and needed to beat Lesotho convincingly on the last day to advance to the final phase.
The former Juventus star says the final qualifiers will be harder because the Black Stars is the target for all the countries in the group.
"In our previous qualifiers countries like Libya and Gabon fought much much harder when they met us because they know when they beat us they have a chance,"
Appiah said.
"Our opponents in this group know that they will be closer to the World Cup when they beat us so the motivation for them is much stronger.
"We must ensure that we start convincingly at home which will build the confidence for us to continue strongly and qualify.
"I want to assure Ghanaians that we are ready to die for the country to qualify for Africa's World Cup."
Ghana will begin their campaign when they host Benin in the opening game in March.
For more Ghana football news visit www.ghanasoccernet.com