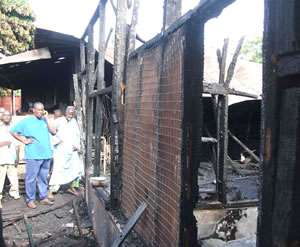 The violence between supporters of the NPP and the NDC at Agbogbloshie in Accra has ethnic and chieftaincy undertones.
The two groups of supporters clashed following a campaign tour of the area by the NPP presidential candidate Nana Akufo-Addo on Wednesday.
The sustained clash has warranted heavy police presence in the area.
A visit to area by Joy News' Sammy Darko indicates many of the trouble makers have gone into hiding for fear of been arrested by the police.
Speaking to Sammy from their hide outs, supporters of the NPP claimed the clash was an extension of the bitter rival and violent confrontation between the Abudus and the Andanis.
The two royal gates have been engaged in violent clashes since 2002 when the overlord of Dagbon, Ya Na Yakubu Andani, and about 26 of his elders were murdered.
The two gates have remained intransigent since then with the crisis being perpetrated under the guise of politics.
Some supporters of the NPP at Agbogbloshie say it will be difficult to resolve the issues.
Their NDC counterparts however believe the violence at Agbogbloshie was purely the case of politics.
They claim they were attacked by supporters of the NPP.
The clashes are said to have a toll on businesses in the area.
Story by Malik Abass Daabu