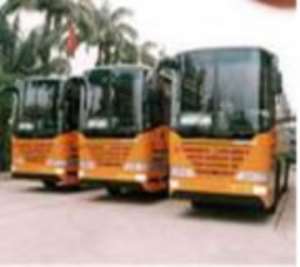 Four hundred conductors of the Metro Mass Transit Limited (MMT) have been dismissed for misappropriating funds of the company over the past one year.
The dismissals were part of management's intensive campaign to halt such negative practices and other undisciplined behaviour among members of staff and management that were impacting negatively on the MMT's image, revenue generation efforts and general operations.
.
The Managing Director (MD) of the MMT, Mr Hens Visschers, made this known to newsmen at a press briefing in Tamale on Thursday, as part of his duty tour of the Northern Region to acquaint himself with the challenges facing the sector in the area.
Mr Stephen Yeboah, the Human Resource Manager of the MMT, as well as Sheila Hammond and Patience Adaworoma, both at the communications department of the company, accompanied Mr Visschers on the tour.
He, however, could not tell so far the amount of money involved in the scandal but stressed that management would continue the "onslaught on theft until we nip these negative practices in the bud".
According to the MD, as part of measures to halt "ticket malpractices in our operations, we have introduced mystery guests and inspectors and we have realised that theft has reduced to the barest minimum".
Mr Visschers also enumerated some plans the company had drawn up for the Northern Region; which he said included the introduction of new buses, the development of a new bus terminal in Tamale, as a way of reducing the "tension between the Ghana Private Road Transport Union and my outfit".
He explained that between now and next year, the company hoped to ensure, among other things, road safety, fuel efficiency, halt in theft cases, construction of destination bill boards, and reducing loading times.
He announced that management had introduced a Vehicle Tracking System (VTS) where the destination and speed of buses would be known by station managers through a computerised system, adding that for now the system had been installed in only three of its buses.
He further explained that management would soon introduce the system in 621 buses nation-wide as a measure to check speeding and other negative practices by both drivers and conductors.