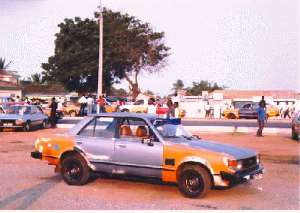 A group of taxi drivers in Accra this morning staged a demonstration at the residence of the presidential candidate of the New Patriotic Party, Nana Akufo-Addo.
The drivers, who operate around the Tetteh Quarshie interchange, stormed the East Legon residence of Nana Akufo-Addo in protest over the death of one of their colleagues who was shot dead by a policeman.
The deceased was alleged to have engaged in an argument with the police.
The drivers preferred marching to Nana Addo for support, instead of going to the police station, because they believed that he could possibly form the next government.
A taxi driver told Joy News; "I want them to help us to get to the bottom of this matter because it can just end anywhere just like that. That brother of mine is having children and a wife and who is to cater for them?
"So I want them to help us, may be if there is any compensation to at least take care of the future needs of the children."