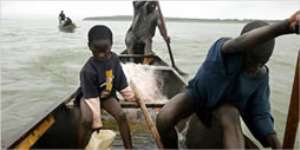 A Programme Officer at the International Labour Organization (ILO), Mr. Emmanuel Kwame Mensah, has appealed to journalists to make follow-ups on stories on child trafficking they report until they are given the fullest attention and action they deserve.
This, he said, would help deter other traffickers from inflicting pain on young children and depriving them access to quality education.
Speaking at a Public Presentation of the Freedom Award in Accra, he said many child traffickers are not prosecuted because the stories are ignored after they have been exposed. He asked; "How many traffickers have been taken to court and jailed or prosecuted?"
Mr. Mensah said many children are not just denied access to quality education but are also under serious servitude with some working to pay off the debts of their families.
Giving statistics on the current situation on child trafficking, he said over 50 million children across the globe are involved in child labour. Most of these children are mainly between 4 to 6 years.
He said the issue of child labour and child trafficking is real and the fight against them should be seen as a fight between adults and children.
"Give direct voices of children as evidence of the circumstances and get all children involved in all aspects of campaigns against child labour and trafficking," he advised.
He appealed to the government to take drastic measures to deal with the problem and help many children come out of the situation.
The West African Regional Coordinator of the Free the Slaves, Mr. Emmanuel Otoo, said there are about 27 million slaves globally.
The issue of slavery, he said, should be seen as a major challenge to every individuals' development and therefore must be discouraged by all.
The Founder of Challenging Heights, an NGO that has interest in the well being of children, Mr. James Kofi Annan said there are over one million children engaged in child labour.
Over 242,000 of the above figure are in the worst forms of child labour and over 800,000 are not in school.
He described the introduction of the Capitation Grant, School Feeding Programme, Livelihood Empowerment Against Poverty (LEAP) programme and the Children's Act (1998) by the government as very laudable and said the initiatives would help eliminate child trafficking and child labour in the country.
For his contributions towards the elimination of child labour and trafficking, Mr. Annan received an international award from the Free the Slaves, USA last September.
A 6-year old Kwaku Annan, a former child labourer, told ADM that he was sent to Yeji and was made to go fishing during the day and even in the middle of the night.
He said he was always scared because he was not a good swimmer. "I lost many of my friends through fishing. They did not know how to swim so they drowned and I watched them go away without doing anything. I was scared myself, because I did not know how to swim," he said.
Young Kwaku Annan, now a class four pupil is suffering from a "whole in heart" disease.