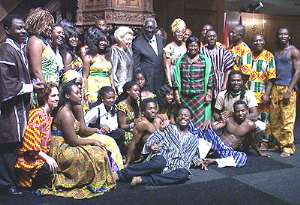 President and Mrs Kufuor and Her Majesty Queen Beatrix pose with members of a dance group which entertained them at a cultural night hosted by President Kufuor Queen Beatrix, the Dutch Monarch, has given thumbs-up to Ghana for the impressive level of development within the last eight years and pledged her country's commitment to stand by it as a dependable ally to help her to continue on its path of progress.
'Ghana is now an example of progress and stability, a modern state and vibrant democracy,' she said, in a toast at a state banquet she hosted in honour of President John Agyekum Kufuor at the Noordeinde Palace in The Hague.
The two countries have had contacts for more than 300 years and enjoy warm relations with the European nation's annual development assistance put at about 70 million euro.
Additionally, Ghana is ranked the fourth largest trading partner of the Netherlands in sub-Sahara Africa. About 80 Dutch affiliated companies have registered in the country and the total volume of trade between them stands at over 400 million euro.
Dutch-Ghanaian trade balance is more favourable to Ghana as Dutch exports to the country amount to about 150 million euro whereas their imports are one- and-a-half times more.
Queen Beatrix gave credit to President Kufuor for the country's political stability and democratic governance that is going hand-in-hand with economic growth and social progress.
'Prosperity has increased considerably in a relatively short time. Thanks to your admirable efforts to combat poverty, many have been able to share in these economic benefits.'
She also recognised Ghana's important global position as a result of its priority to the promotion of regional security and stability and role in peacekeeping.
'The fact that until recently one of your compatriots was Secretary-General of the United Nations has also contributed to your international prestige.'
President Kufuor said the two countries were no strangers to each other as the Dutch were one of the earliest Europeans to have come to the shores of Ghana in the early 17th Century.
Since Ghana's independence, they have reconnected trade and cultural relations between them on mutually beneficial and respectful diplomatic relationship.
The Netherlands is a major importer of cocoa, the main backbone of Ghana's economy.
Besides, Ghana enjoys substantial budgetary support from Dutch that country towards provision of water and good sanitation, health and environment and infrastructure development, especially roads and harbours improvement.
Added to these, the President said, was the Dutch contribution to the establishment of the Kofi Annan International Peacekeeping Training Centre, which is now a 'Centre of Excellence' for training of peacekeepers and reconstruction agents around the continent of Africa.
President Kufuor reiterated the need to forge a strategic Europe-Africa partnership to enable them to occupy a strong position in the global market.
Meanwhile, President Kufuor wrapped up his three-day visit at the invitation of the Dutch Government with a tour of the Evides Water Company yesterday morning.
He was accompanied by his wife, Theresa, Foreign Minister, Akwasi  Osei-Adjei, the Attorney-General, Mr Joe Ghartey and other senior government officials.
Click here to view photos