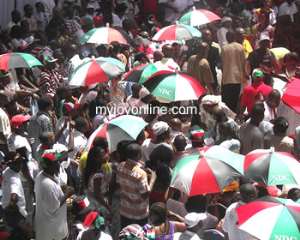 The Wa Central constituency branch of the National Democratic Congress on Thursday took credit for the peaceful political campaigning that is going on in the Wa Municipality.
Alhaji Seidu Jamatutu, the NDC Chairman of the constituency, said as the largest political party in the area, the NDC held the keys to both decent politics and tension.
Speaking to the Ghana News Agency at Wa, he said if the party had been reacting to the statements coming from New Patriotic Party activists in the constituency, several violent incidents would have been recorded.
"We are the majority in the constituency and we can face them if they continue to insult us but we have asked our supporters not to insult any one even when we are provoked that is why there is peace in Wa in spite of their provocative utterances".
He said the NDC was sure to retain the seat by trumpeting the party's achievements while in government and at the same time revealing the NPP's un-fulfilled promises to the people.
Alhaji Jamatutu said the municipality had not seen any development since the NPP came to power and that businesses of prominent personalities in Wa had all collapsed under NPP rule.
As to why political parties in the area continued to organize night rallies in communities, he said most of the people are farmers and they could only reach them with their messages during the night.
GNA gathered that no political skirmishes and other acts of vandalism have so far been recorded in the constituency since intensive political campaigning began, which is a welcome contrast to the 2000 and 2004 campaign periods when acts of vandalism were widespread.
Mr. John Ibrahim Donkor, Wa Central organizer of the NPP, said voters in the area are now politically alert and would vote for political parties and candidates who loved peace and show that they could be trusted to provide them with their collective needs.
"People in this constituency are now ready to vote on principles and will not be influenced by material enticements and intimidation or force".
He said every community in the Municipality had got at least one project from President Kufuor's government which is why the NPP is now enjoying massive support in the Constituency.
Mr. Donkor the "Meet the People" concept which President Kufuor introduced as a way of taking face to face questions from the people had built a good image for the party in government.