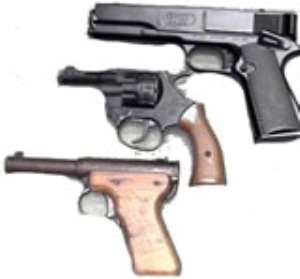 A taxi driver and his fiancée believed to have taken part in some robberies and at Ohwim in Kumasi have been nabbed by the Ashanti Regional Police Command.
Twelve of their accomplices are also in the grip of the police and are assisting in investigations, Deputy Commissioner of Police Kwaku Ayesu Opare-Addo, Ashanti Regional Police Commander, told newsmen on Thursday.
Kwabena Osei, the taxi driver and his fiancé, Afua Cheche were arrested on separate occasions following the arrest of the rest.
He said a nursing mother they robbed on October 02 took down the registration number of the taxi and reported to the police.
They mostly robbed their victims of their mobile phones, cash among other valuables by usually blinding them with paper spray and hot menthol ointment. The also held their victims at gunpoint.
Mr Opare-Addo said Kwabena, who always had his fiancée by his side, won the confidence of passengers.
One Kwabena Nyantakyi, 26, has also been arrested for car snatching.
Most of his targets are on Mercedes Benz and has so far stolen nine but police have retrieved five.
He said the suspect had mentioned some accomplices but the police have not traced any of them.
GNA