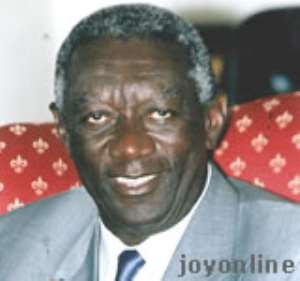 Ghanaians are resolved to live under the enlightened political system of constitutional democracy and consign military interventions to history, President Kufuor declared on Tuesday.
Addressing the Dutch Senate on Tuesday, he said there was ample evidence of that, having already gone through four successful elections since 1992, with the fifth coming up on December 7, this year.
A solid foundation of a buoyant economy, expanding social services and an insightful and independent judicial system had been laid for sustained democratic governance that would stand the test of time and circumstances, he added.
President Kufuor, accompanied by his wife, Theresa; the Foreign Affairs Minister, Mr Akwasi Osei-Adjei; the Attorney- General, Mr Joe Ghartey, and other senior government officials, is on a three-day State Visit to The Netherlands.
The visit comes barely two months to the end of his Presidency and is at the invitation of the Dutch Government.
It has a dual agenda - to strengthen Ghana-Dutch bilateral relations and publicly recognise President Kufuor for his good leadership that has helped to transform Ghana into a model of democracy; stability and peace on the continent of Africa.
The two nations have had contacts for more than 300 years and enjoy warm relations, with the European country's development assistance to Ghana put about 70 million Euros annually.
President Kufuor said it was time the two countries took special look at their diplomatic and business relationships to enable them to serve as the prime movers of the new Euro-African partnership.
Source: Daily Graphic