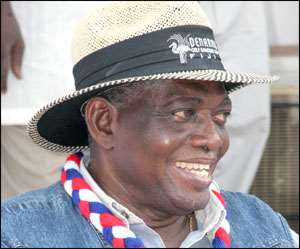 Many more companies have expressed interest in exploring and producing oil in Ghana. According to Felix Owusu-Agyapong, Minister of Energy, government has so far signed 11 petroleum agreements, paving way for the firms to explore oil at different stages presently.
The minister who disclosed this at the meet-the-press series in Accra on Monday, said from the recent discoveries in the Jubilee Field, it has become clear that Ghana is poised to become a major oil and gas producer.
Initially the country's oil reserves were running into several millions of barrels until another search revealed that it could hit three billion barrels. Kosmos and Tullow Oil discovered oil and gas in commercial quantities in the deepwater Cape Three Points and deepwater Tano, which is also called the Jubilee Field, in 2007.
Mr. Owusu Agyapong explained that the first phase of the production which is to be completed by 2010, would see a daily production of about 120,000 barrels of oil and about 120 million cubic feet of gas while the second phase which will be carried out between 2010 and 2012 will lead to a daily production of 250,000 barrels and 250 million cubic feet of gas.
He pointed out that as part of government's commitment to ensuring that revenue from the oil discovery benefit all Ghanaians, his Ministry has directed the Western Regional Minister to hold consultations with the chiefs and people of the area to define their involvement in the development of the discovered oil and gas.
He said government is working on a comprehensive Local Content Policy in the oil and gas industry to ensure that Ghanaians derive maximum benefits from the discovery.
With regard to the proper management of the discoveries, he said the National Petroleum Oversight Authority Bill has been prepared by the Attorney General's Department for presentation to Parliament.
The bill will provide the necessary institutional blueprints for the proper management of the oil and gas resources of the country.
Touching on investments in the power sector, Mr. Owusu-Agyapong said the Brazilian Government has granted the Government of Ghana $555 million for the development of the Pwalugu and Juale hydro power plants.
In addition to this, he said government is investing about $400 million in the procurement of new thermal power generation capacity in addition to $600 million from the China Exim Bank for the Bui Hydropower project.
According to the minister, a key objective of the government's energy policy focus is to ensure universal access to electricity particularly for the rural communities in a reasonable time period.
He said, "The government's efforts at the rural electrification programme have resulted in increasing the national electricity access from 43 percent in 2000 to 54 percent in 2008".
He was therefore hopeful that with the rural electrification project, rural communities will be open to rapid development and poverty reduction.
By Esther Awuah