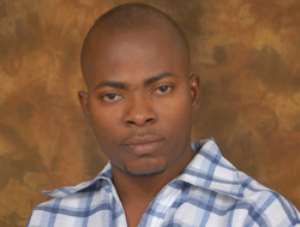 MC cum lawyer, Mac Diamond Nyamekor, who replaced Kwesi Kyei Darkwa (KKD) as MC at the Exquisite Face of the Universe event at the National Theatre in Accra last Saturday, has reacted to the Beatwaves' story of Tuesday, October 21, 2008 that he was part of the organizers of the show which was described by the audience as boring.
At the said event, Mac Diamond took over from KKD as MC after the latter left in the middle of the programme with the explanation that there were lapses in the organization of the event which made his job difficult.
Mac Diamond told Beatwaves yesterday: "I am not part of 1st Royal Events, the organizers of the pageant. When KKD left in the middle of the show, and there wasn't anybody to emcee the occasion, I decided to fill in to save the situation. I only wanted to help since I knew the organizers.
I tried to make the show an interesting one for everyone to enjoy it.
That was why I added some good sense of humour which you highlighted in your story."
On Beatwaves' report that his delay backstage contributed to the boring nature of the show, Mac Diamond said he couldn't be blamed for that. "The organizers delayed in giving me the necessary information I needed to go on stage with. It was not my fault," he pointed out.
By Francis Addo