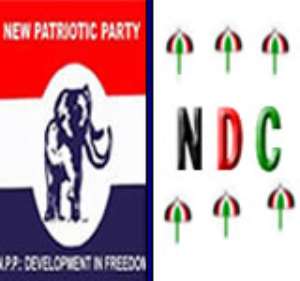 Supporters of the New Patriotic Party and the National Democratic Congress last night clashed at Old Fadama, a suburb of Accra.
The clash erupted during a campaign tour of the presidential candidate of the NPP, Nana Akufo-Addo to the area.
Supporters of both parties have been trading accusations and blaming each other for the stone pelting spree that ensued between them.
An NDC supporter told Joy News they were first attacked by the NPP supporters because they saw them in NDC paraphernalia.
He conceded that they were aware that the NPP's flag-bearer was coming to the area.
"After they held the rally and were passing-by with the police, they saw that we have decorated here with NDC colours and they started insulting our members and they also retaliated. Before we realized, the police fired tear gas into us. One of their chairmen called Alhaji Karim then ordered them to destroy everything here," the NDC supporter recounted.
The NPP supporters, on the other hand, pointed accusing fingers at the NDC for planning ahead in the attack.
A supporter noted that they got wind of a plot by the NDC to attack them in the morning and attempted to reconcile with them before any unfortunate incidence happens.
"They prepared the stones around 7 o'clock in the morning. We heard the rumor that they were coming to attack us so if that be the case we have to protect ourselves. We organise ourselves and we went down to tell them that we don't want trouble that you people you don't have rally, we have rally today so there is no need to put on your T-shirts disturbing people here and there.
They were on a storey building and when they saw Nana Addo coming, they started throwing stones."
Sensing danger, he said, the supporters were advised to retreat. They however decided to teach the NDC supporters a lesson, so they organised and chased them away.
Story by Isaac Essel