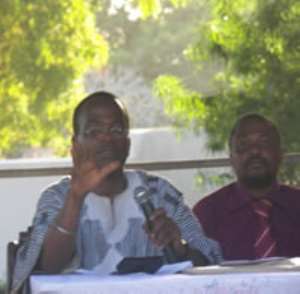 Mr. Yaw Boadu Ayeboafo , General Manager of the Graphic Group of Communications has called for an independent, free, media devoid of political manipulations in the run up to the December elections.
The media, he reckoned plays an important role of disseminating unbiased, accurate information, especially during elections for people to make informed choices.
For this reason, objective fair minded journalists must be seen to exert their influence on society, he contended.
"In the run up to the December 7, 2008 the media must not be seen as pawns in the hands of any political party."
Mr. Ayeboafo was speaking at the 20th in the Series of the Sam Arthur Memorial Lectures held at the Ghana Institute of Journalism on Wednesday.
It was under the theme "the media in the hands of politicians, implications for the 2008 elections."
He bemoaned the tendency for politicians to own media organisations in the country, even though he acknowledged it is acceptable under the constitution.
He chided politicians for their double standards.
"For instance, one of the factors that threatened the stability of the Fourth Republic in 1992 was the boycott of the parliamentary elections after which the New Patriotic Party published the "The Stolen Verdict", in which it catalogued what it described as the fraud against Ghanaians by the National Democratic Congress. The party refused to seek legal redress for lack of faith in the Judiciary."
"In recent times, former President Rawlings has alleged that the NPP stole the elections in 2000 and 2004. The NDC, meanwhile, has no confidence and trust in the Judiciary." Mr. Ayeboafo chronicled some of the inconsistencies of politicians adding "in the face of such glaring contradictions, it could be most dysfunctional to leave the media in the hands of politicians.
He further recounted the atrocities in Rwanda perpetrated by Politicians in the guise of Journalists (Radio- Television Libre Mille Collines) to buttress his contention.
He however stated that journalists have the right to declare their support for political parties, and publish negative stories about their opponents, but insisted those stories must be factual and not fabrications.
He cautioned the media against sensational headlines, and stories that might inflame passions, adding "we must be in control and work towards peace and conciliation rather than become war-mongers and focus on national disintegration."
Mr. Amponsah Bediako, Government's Spokes Person on Social Services, who was also the Chairman of the occasion, underscored the need for a peaceful poll in December.
He touted the contribution and role of the media for the growth and development of the country.
The occasion was attended by students of the Ghana Institute of Journalism and a cross section of the media.
Story by Nathan Gadugah