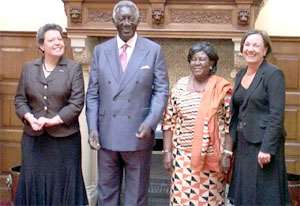 PRESIDENT J.A. KUFUOR yesterday arrived at The Hague, Netherlands for a three-day state visit.
He was accompanied by his wife, Theresa and was met on arrival at the Rotterdam Airport by Dr. Grace Amponsah-Ababio, Ghana's Ambassador to the Netherlands, the Dutch Ambassador to Ghana and Dutch government officials.
His first engagement was at the Noordeinde Palace, The Hague with Her Majesty Queen Beatrix who welcomed him and his entourage in an official ceremony.
The national anthem of Ghana was played, followed by the national anthem of the Netherlands after which the President inspected the guard of honour mounted for him, accompanied by the Queen. The President and the Queen later retired for bilateral talks.
The next event was a meeting with the Prime Minister of the Netherlands at the Ministry of General Affairs where they again held bilateral talks.
A government lunch, hosted by the Prime Minister and Mrs Balkenende was held in honour of the President of Ghana, and Mrs Theresa Kufuor. The Queen and Professor Pieter van Vollenhoven also attended.
The President, accompanied by Theresa, also visited the Senate at Binnenhof 22. They were met by Mrs Y.E.M.A. Timmerman-Buck, President of the Senate, and Ms G.A. Verbeet, President of the House of Representatives, after which he addressed the House of Representatives.
Other members of the President's entourage were the Minister for Foreign Affairs, NEPAD and Diasporan Relations, Akwasi Osei Adjei; the Attorney-General, Joe Ghartey; Ambassador D.K. Osei; Press Secretary, Andrew Awuni and Mr. Robert Ahomka-Lindsay.
By Ernest Youngman, from The Hague